'I Send Him My Blessings' – Jalen Hurts Admits To Not Having Contacted Carson Wentz Following Colts Trade
The Philadelphia Eagles quarterback situation turned ugly real fast following a string of disappointing results by Carson Wentz last season. The Eagles QB1 had a season to forget recording less than 3,000 passing yards and 15 interceptions.
Former Eagles coach Doug Pederson had seen enough and ultimately gave rookie QB Jalen Hurts his first start in Week 14 against the New Orleans Saints.
And it's safe to say, Hurts did the job asked of him. In his first start in the league, Hurts completed 17 of 30 passing attempts for 167 passing yards. This included one touchdown, which ultimately saw the Eagles through to a 24–21 win. 
With Carson Wentz now being traded to the Indianapolis Colts, the Eagles have a new quarterback for the future. With Hurts under center for 2021, the franchise will hope for a turnaround come next season. 
Jalen Hurts eager to take over the reins
Officially taking over as Philadelphia Eagles QB1, Hurts talked about what his mindset is going into the new season and how he still hopes to improve as a player.
"I think nothing changes for me and my mindset," said Hurts while appearing on The Adam Schefter Podcast.
"Going in every day and trying to get better as a player. Be the best leader I can be. Impact the guys around me. And ultimately it is about winning football and being consistent in doing that. So my mentality doesn't alter not one bit."
ALSO READ – NFL Analyst Makes Bold Prediction on Who the Tampa Bay Buccaneers Will Franchise Tag Next Season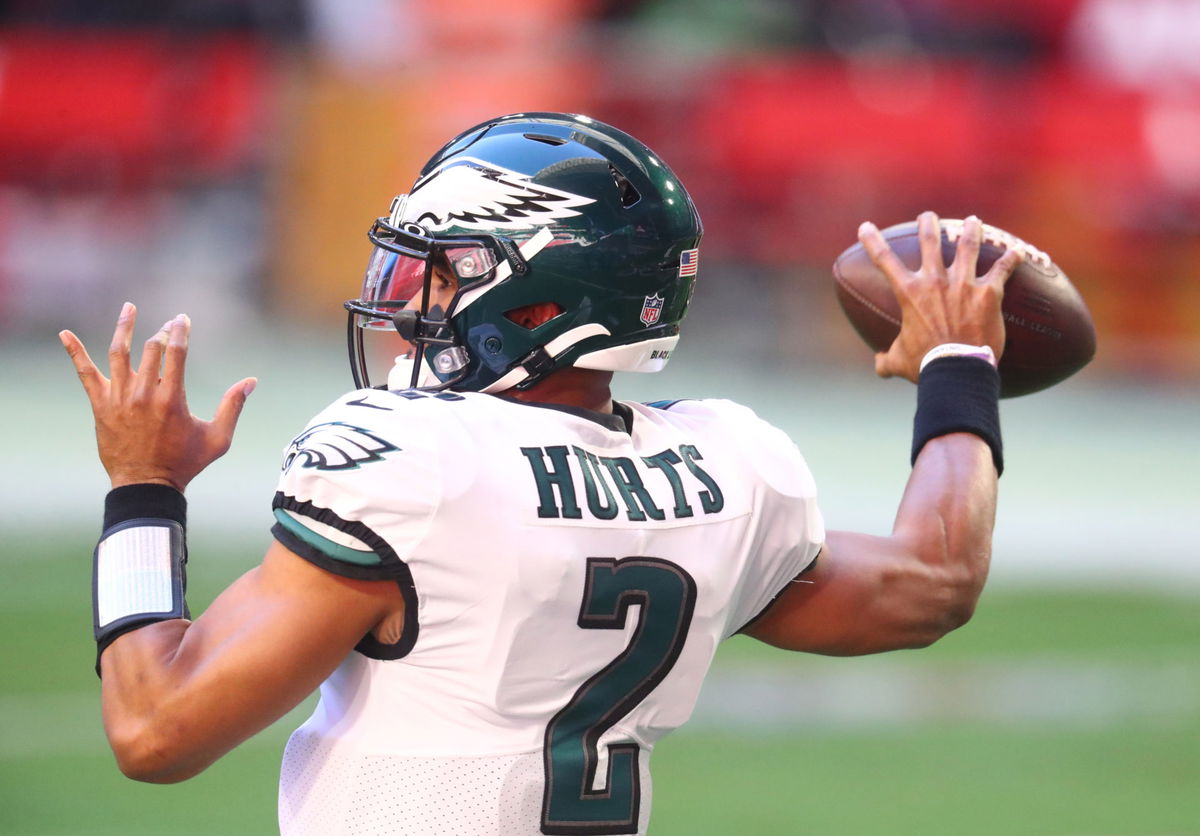 Taking over as the Eagles starting QB last season in the last four games, Hurts said he sees the new challenge as yet another learning curve. 
"I'll remember it as a true learning experience as anything and everything else I have gone through and dealt with," Hurts said while reflecting on his rookie campaign.
"I am grateful for the opportunity of being drafted to the Eagles and ultimately being in the position I am in now. But nonetheless, a lot to learn from," he added.
No contact with Carson Wentz
While talking to Schefter, Hurts admitted that he hasn't been in touch with his former Eagles teammate since the latter made the switch to the Colts. But for Carson Wentz, Hurts has nothing but good wishes.
"I send him my blessings and wish him nothing but the best. I hope he takes off and has a great career," said Hurts.
Hurts has been lauded for being level-headed as things went spiraling out of control in Philly last season. 
The quarterback obviously still has a lot to learn. A new season, the pressure of being a regular starter, and add to that adjusting to the play style of a new head coach. Hurts sure has his work cut out ahead of him. 
But going by the quarterback determination and enthusiasm, he sure will be ready to take those challenges head-on.
ALSO READ – REPORT: Jalen Hurts Not Unanimous Starting Quarterback in Eagles' Locker Room
The post 'I Send Him My Blessings' – Jalen Hurts Admits To Not Having Contacted Carson Wentz Following Colts Trade appeared first on EssentiallySports.