TimTheTatman, CouRage JD, Alanah Pearce React to Jake Paul Knocking Out Ben Askren
The highly anticipated boxing match between YouTube celebrity Jake Paul and decorated Olympian wrestler, Ben Askren concluded a few hours ago. His boxing debut did not go very well for the retired professional, as he suffered a first KO loss. Celebrity streamers like CouRage, TimTheTatman, and more took to Twitter to offer their reaction.
Ben is a formidable wrestler and is a former world champion in MMA across multiple organizations. He has an impressive record in the sport and has beaten many top-rated athletes with his wrestling prowess alone. Safe to say, Jake just shocked the world, as he secured a clean victory over the retired fighter.
Also Read: What Is Next for Ben Askren After Being Annihilated by Jake Paul?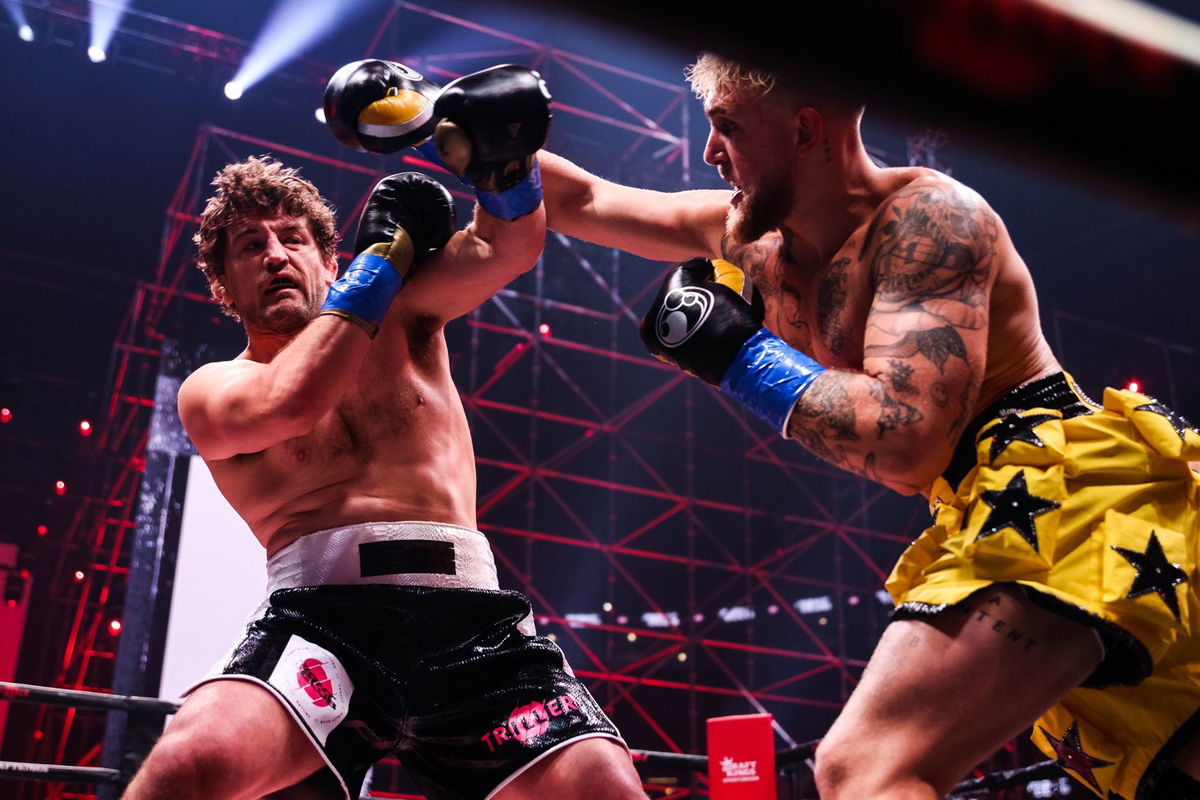 CouRage seemed impressed by Jake's performance
The shocking outcome of the exhibition fight certainly left an everlasting impression. On paper, it seemed like the 24-year-old had no chance of getting past a grizzled MMA veteran like Ben. However, the YouTuber landed a perfectly executed punch in the first round, which ended the boxing match.  100Thieves' co-owner and content creator, Jack 'CouRage' Dunlop offered his reaction as Jake Paul's performance certainly impressed him.
Also Read: 'I Feel So Bad for the Parents'- Ben Askren Says Kids Shouldn't Be Watching This
Oh my god…

Ben Askren got a paycheck to get knocked out.

Props to Jake Paul for really grinding to improve. Wild

— Jack "CouRage" Dunlop (@CouRageJD) April 18, 2021
As much as fans hated seeing Ben lose like that, he indeed made a bank in this fight. The UFC fighter already stated that this bout is going to earn him the biggest paycheck of his life. Game developer and streamer, Alanah Pearce shared suggested the next opponent for Jake Paul.
I for one am not giving Jake Paul ANY CREDIT until he actually shows some courage by engaging in a REAL FIGHT against the one true undefeated fighter GODZILLA: KING OF THE MONSTERS

— Alanah Pearce (@Charalanahzard) April 18, 2021
TimTheTatman believed in Jake Paul and stated he is going to win before the fight. It looks like out of all the people Tim managed to correctly predict the outcome of the fight.
jake paul out here shocking the world… wow…

— timthetatman (@timthetatman) April 18, 2021
What's next for Jake Paul?
It looks like Jake will continue his run as a professional boxer, after securing yet another first-round finish. Back in 2020, rumors within the community suggested a possible clash between Tfue and Ninja in a boxing ring. It certainly showcases Tfue's interest in fighting and fans could see another celebrity match between him and Jake Paul, who has already won 3 fights in a streak.
Jake would need to look for another opponent, and it seems Tfue could fill in those shoes. The superstar streamer possesses similar physical gifts and he could easily pick up the craft.
Would you be interested in seeing Jake Paul go head-to-head against former FaZe member Tfue? Let us know in the comments below.
Also Read: 'This Kid Punched the Sh*t Out of Ben' – Daniel Cormier Reacts to Jake Paul Knocking Out Ben Askren
The post TimTheTatman, CouRage JD, Alanah Pearce React to Jake Paul Knocking Out Ben Askren appeared first on EssentiallySports.