George Russell Missed Mercedes 'Bigger Picture' in Imola F1 Crash With Bottas: Brundle
At the Emilia Romagna Grand Prix, the Mercedes team had a nightmare. Both their cars suffered from misfortunes, and Mercedes junior George Russell was involved in one of them. First and foremost, Lewis Hamilton slid off the track in his best Sebastian Vettel Hockenheim 2018 impression. Luckily for him, he was able to extricate himself and recover to finish 2nd.
However, Valtteri Bottas and George Russell were not so lucky. The Briton attempted a DRS assisted pass on his rival down the pit straight, but it all went wrong. Russell dropped a wheel on the damp grass, lost control and wiped out his one-time Mercedes teammate. Barring the shunt, the youngster still had a very strong race.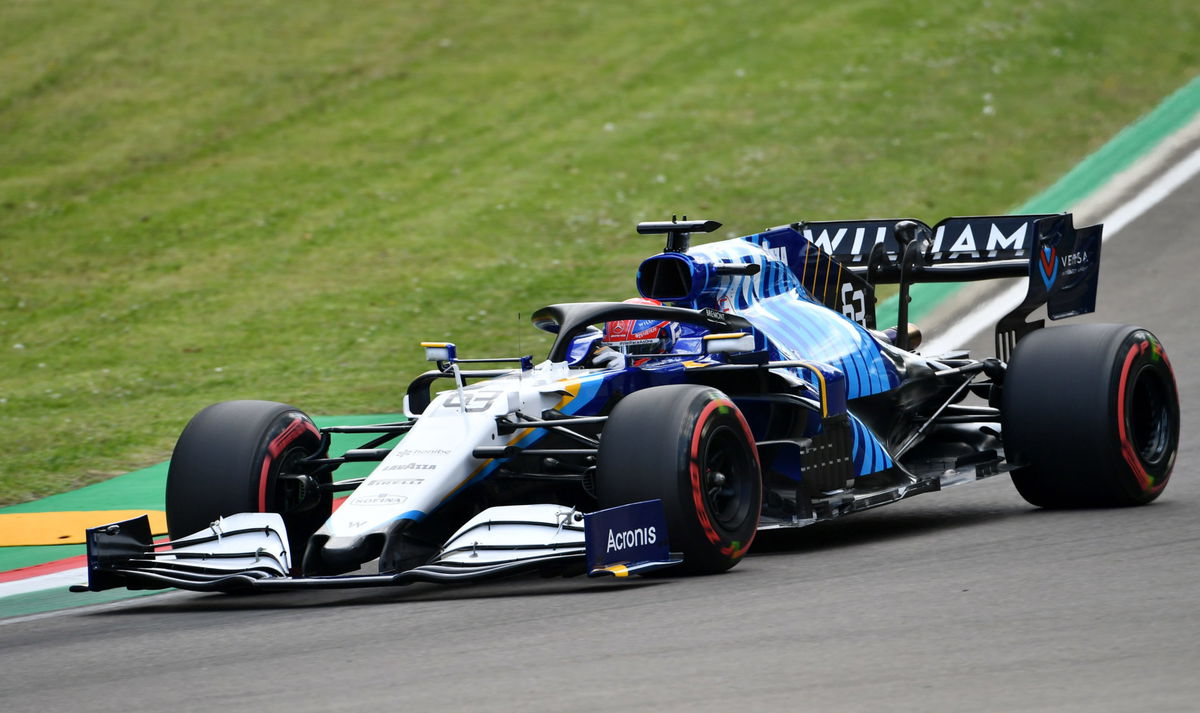 According to former F1 driver Martin Brundle, "I'm surprised that doesn't happen more often. The track had a defined dry line with moisture present on both sides, and turn one is simply a left-hand kink. Bottas wanted to stay on the dry line, that's totally his prerogative as long as he left space either side, which he did."
"I can't see any blame for Bottas, and Russell needs to carefully consider if he should have seen the peril unfolding, backed out and waited for a less risky move, and also how he behaved after the shunt with his words and actions"
"He's a young feisty racer seizing a passing opportunity, and you absolutely wouldn't want to knock that out of him, but especially up against a works Mercedes he needed to consider the bigger picture and play the percentage game more carefully"
What went through the minds of George Russell and Valtteri Bottas?
Obviously, both drivers were battling for position and Russell really wanted to overtake the Finn. The Briton had track position, slipstream and closing speed to attack Bottas and the latter was well within his rights to defend. Russell had his DRS open, he was heading around a curve and drifted onto a damp part of the track.
Combining all those together created a recipe for disaster and poor old Bottas happened to be in the way. To make matters worse, Haas F1 driver Nikita Mazepin had already taken out Nicholas Latifi in the other Williams.
Brundle acknowledged that the collision was purely a racing incident and the stewards agreed with him. The former McLaren driver insisted that Valtteri Bottas was not to blame. In addition to that, Russell should have taken to account the risk involved and backed out. From there, he could have bided his time and executed a less risky move
However, Russell did himself no favors in terms of his own behavior. Of course, He is a young hot-blooded racer and seized an opportunity, and it would be foolish to muzzle that. On the other side of the argument, Russell needs to see the bigger picture, as Mercedes could be his future employers. In other words, team boss Toto Wolff has a final say in his and Bottas' careers.
READ MORE: Toto Wolff Hilariously Threatens to Demote George Russell to 'Renault Clio Cup' After Bottas Crash
The post George Russell Missed Mercedes 'Bigger Picture' in Imola F1 Crash With Bottas: Brundle appeared first on EssentiallySports.