NFL Draft 2021: Former Super Bowl Winner Says Dallas Cowboys Would Benefit From Drafting Kyle Pitts
Kyle Pitts is getting a lot of attention as he heads into the draft. The Florida Gators tight end is one of the most noteworthy players in this year's NFL Draft Class.
Pitts could be the highest non-quarterback draft pick in this year's 1st-round, with several teams vying for his talents. However, one NFL legend believes that the Dallas Cowboys should try to move up to get Pitts, as they would benefit from his presence greatly.
Former Super Bowl winner Michael Irvin spoke recently about 2021 NFL Draft prospect Kyle Pitts. Irvin had high praise for Pitts, calling him a phenomenal talent. He believes that Pitts is actually more of a wide receiver than a tight end.
Furthermore, Irvin praised Pitts' character, and how grounded he can be. Pitts wants to do everything in his power to learn as much as possible, especially the nuances of the game, so he can improve his performances.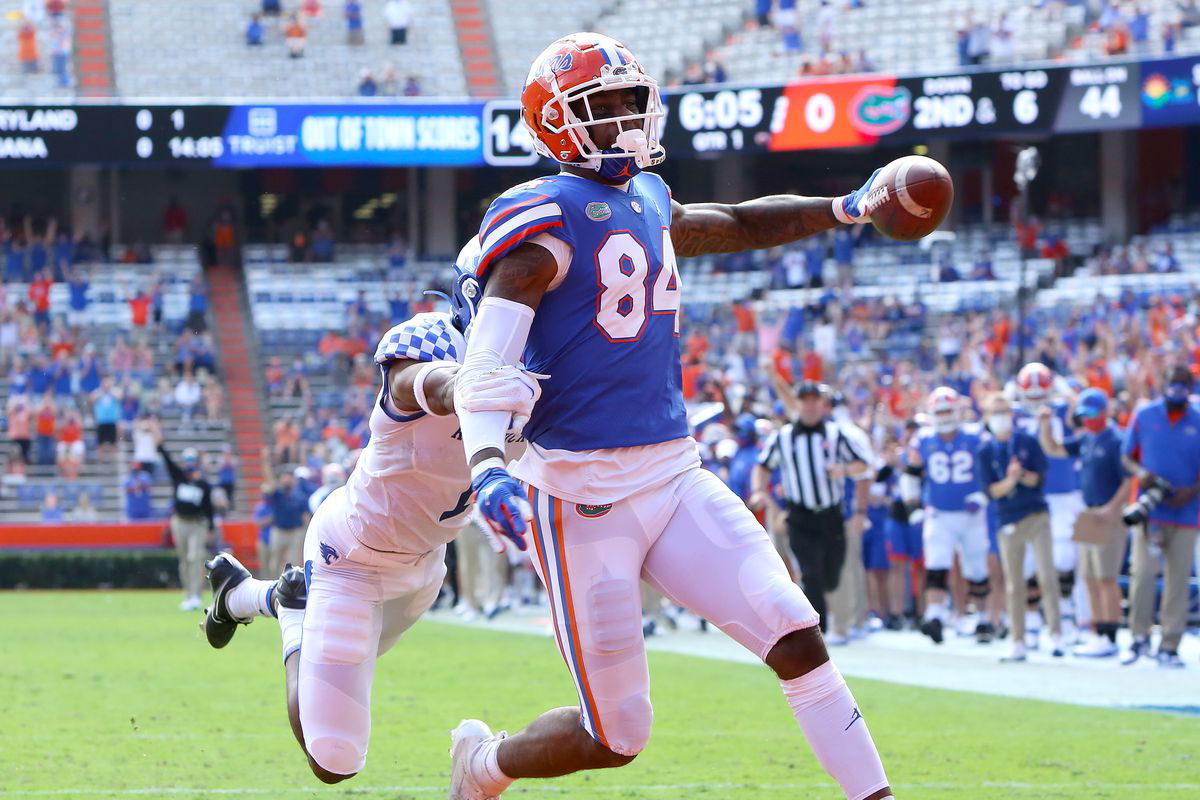 "For what that kid is, I mean he's a phenomenal talent. He's really a wide receiver playing the tight end position. When I study him, he talks about how much he loves learning all the nuances of blocking and everything. The kid seems like he really wants to be great."
Also Read- From Quarterback to Tight End, the Road 'Less Taken' by Gators Superstar Kyle Pitts
Kyle Pitts to the Cowboys?
Irvin added that any team that could get their hands on him would be really lucky to have him. However, he believes the Dallas Cowboys stand to benefit more than several other teams in the draft.
While the Cowboys really need to make more efforts to solidify their defense, Pitts would be an incredible addition. Irvin believes that the Cowboys would be willing to share the ball with him, as his talent on the ball is undeniable.
"It would be insane to have him. As much as Dallas needs as much defense as they need, it would be insane to have him. I heard you say earlier there may not be enough balls, it may be true, in some sense but this kid will be up the pecking order if he did come to Dallas in some kind of way."
Also Read- Cowboys VP Reveals Jerry Jones' Interest in Kyle Pitts
Will the Cowboys trade up to draft Kyle Pitts? It appears unlikely as the Cowboys have made defense their priority. However, we have seen teams do a 180 over their draft stance, and the Cowboys could make some last-minute moves ahead of draft night.
The post NFL Draft 2021: Former Super Bowl Winner Says Dallas Cowboys Would Benefit From Drafting Kyle Pitts appeared first on EssentiallySports.