'I'm Going to Give Them a Show Tomorrow'-Colby Covington Promises to Be In the Arena at UFC 261
The welterweight strap will be on the line tomorrow at UFC 261 as Kamaru Usman defends his belt against Jorge Masvidal for the second time. It will be interesting to see how much a full training camp and not having to cut 20-pounds before the weigh-in will help 'Gamebred'. One person in particular who will be in attendance will be eager to see how this fight plays out, and that is Colby Covington. 
Covington has confirmed that he will be in attendance at UFC 261 to watch former teammate and friend Jorge Masvidal take on arch-rival Kamaru Usman. Covington is next in line for the winner of the fight at UFC 261 as confirmed by UFC head honcho Dana White. 
Read More: BREAKING: former UFC welterweight champion Tyron Woodley cut from the UFC roster 
Colby Covington picks Kamaru Usman to win once again at UFC 261
In a recent interview, Mike Bohn of MMA Junkie asked 'Chaos' if he believes Kamaru Usman will beat Jorge Masvidal on Saturday night. 
He said, "Yeah it's going to be the same exact outcome. It is going to be the Ultimate footsies championship, which I am sorry cause if I was fighting it would have been the Ultimate Fighting Championship. He's just going to be touching his feet, whispering in his ear, probably grabbing his jockstrap again like he did last time so it is going to be a boring decision." 
The former interim welterweight champion continued, "The only entertaining thing about this fight is that I'll be in the arena. That is why I came, I came for the fans, I didn't came to see this boring a** fight. No one cares about these uncharismatic guys. I came to be here for the fans. I am the people's champ for a reason and I am going to give them a show tomorrow night."
Ever since his loss to Kamaru Usman at UFC 245, 'Chaos' has been relentlessly demanding a rematch stating fake stoppages cost him the fight. After a few months of inactivity, Covington returned to the octagon to stop former champion Tyron Woodley and has since been gunning for a rematch.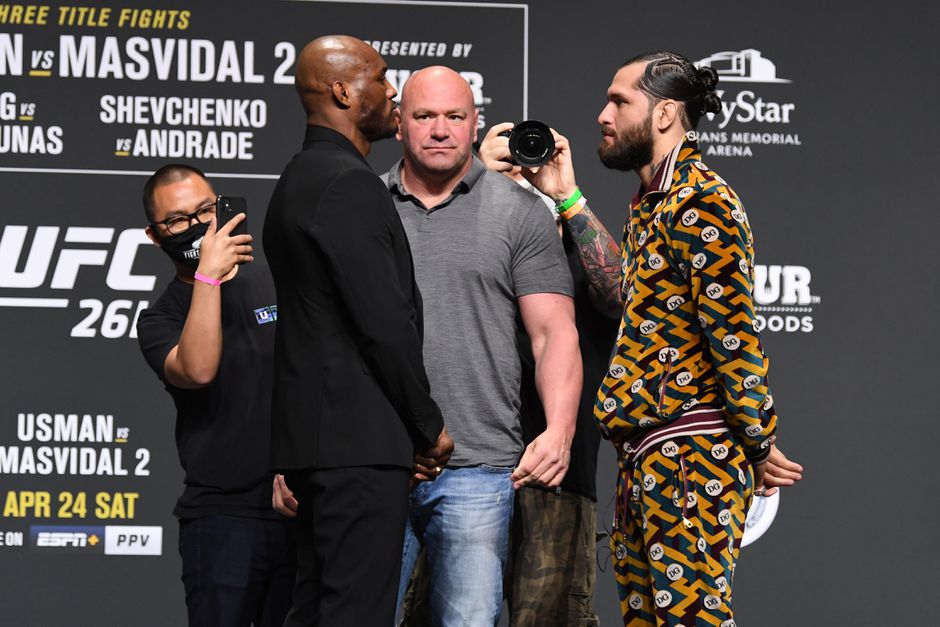 Dana White has confirmed that Colby is next in line for the title shot. However, in his business, nothing is guaranteed. 
What do you make of the fight tomorrow night? Who do you think wins the main event? Let us know in the comments below!
The post 'I'm Going to Give Them a Show Tomorrow'-Colby Covington Promises to Be In the Arena at UFC 261 appeared first on EssentiallySports.