Pat McAfee Comments on Urban Meyer's Three QB Targets Including Trevor Lawrence
Gardner Minshew and the Jacksonville Jaguars ended their 2020 NFL campaign on a sour note with a 1-15 record. Franchise owner Shad Khan roped in legendary college football coach, Urban Meyer, to step in and steady the ship in Florida. It's no secret that the Jaguars have been looking to draft a dynamic, young quarterback and they have their hearts set on Clemson's Trevor Lawrence.
The silk-haired youngster concluded his 3-year college football career with 10,098 passing yards and 90 passing TDs. He has already with coach Meyer on multiple occasions this summer.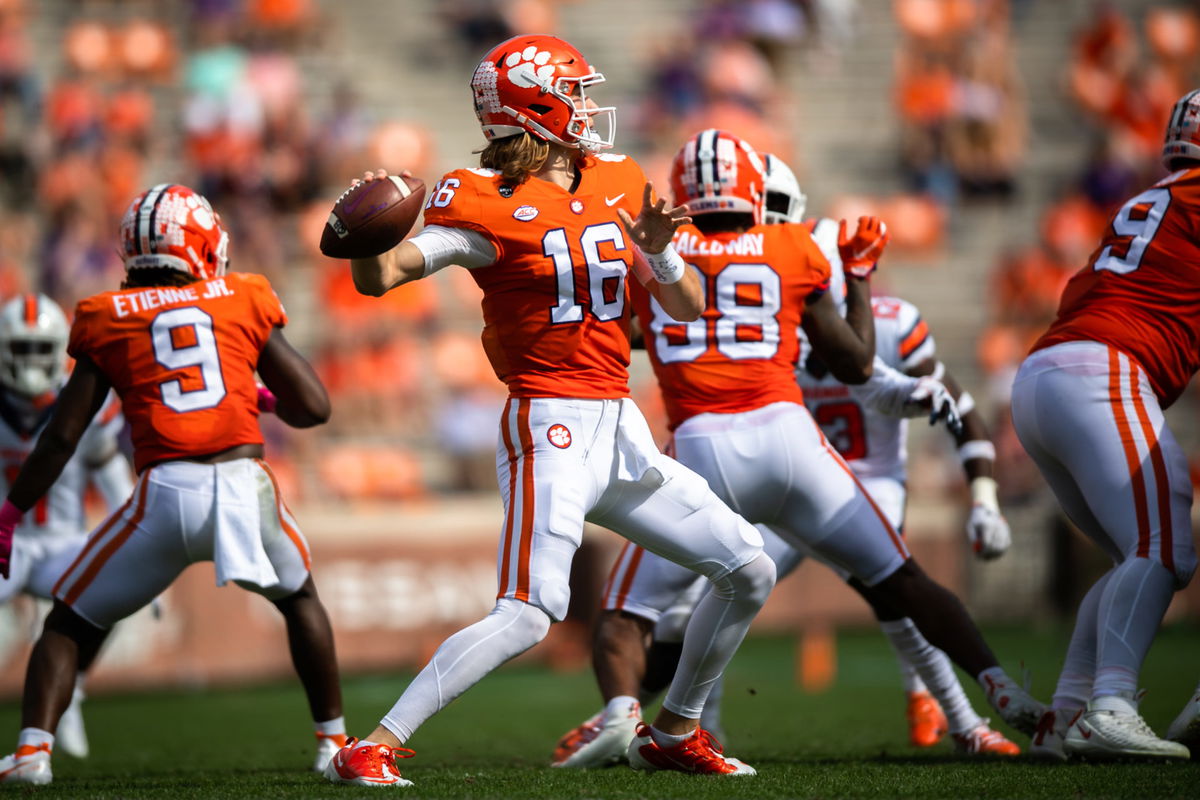 Lawrence finished as a Heisman Trophy finalist in 2020. However, he recently underwent surgery on his non-throwing shoulder. He is expected to return in time for the preseason.
The Jags have their minds set on Lawrence in the 2021 NFL Draft. But that wasn't always the case.
ALSO READ – 2021 NFL Draft: Analyst Wants Atlanta Falcons to Pick THIS Florida Star
Pat McAfee comments on Trevor Lawrence, Justin Fields, and Zach Wilson
Early on in the process Urban Meyer targeted 3 players as the potential #1 overall pick for the #Jags..

Trevor Lawrence, Zach Wilson, & Justin Fields #PatMcAfeeShowLIVE pic.twitter.com/a1VsJj0Ou2

— Pat McAfee (@PatMcAfeeShow) April 28, 2021
Jacksonville Jaguars owner Shad Khan recently revealed that the organization, including Urban Meyer, was assessing three quarterbacks before zeroing in on Trevor Lawrence this year. Here's what former Indianapolis Colts kicker-turned-analyst Pat McAfee has to say on the same.
"Urban Meyer was allegedly deciding between Trevor Lawrence, Zach Wilson and Justin fields for the number one pick, very fascinating that he in numerous conversations with Mr. Shad Khan down there whenever he was just a liaison or a consultant for Shad Khan prior to him getting the head coaching job at Jacksonville, Shad Khan used him as a sounding board for decisions."
"It's coming out that when Urban Meyer got the gig, he checked out Trevor Lawrence, Zach Wilson and Justin fields. Now is he saying that to potentially give a positive spin for Justin fields who's an Ohio State guy? No, but his name has been tarnished a bit during this entire draft process," McAfee said on the show.
ALSO READ – From Defensive End to Linebacker – The Rise of Penn State's Micah Parsons
The post Pat McAfee Comments on Urban Meyer's Three QB Targets Including Trevor Lawrence appeared first on EssentiallySports.