Stephen A. Smith Draws Parallels Between Tom Brady and Patriots Rookie Mac Jones
Tom Brady left Bill Belichick and the New England Patriots in 2020 in search of a new challenge. He joined the Tampa Bay Buccaneers on a short-term deal and led them to the Super Bowl LV title last season. This year the Patriots managed to draft a young quarterback in the form of Alabama's Mac Jones.
It's no secret that the University of Alabama HC Nick Saban and Bill Belichick share a close professional relationship. So it was no surprise to see New England move in for the reigning CFP National Champions.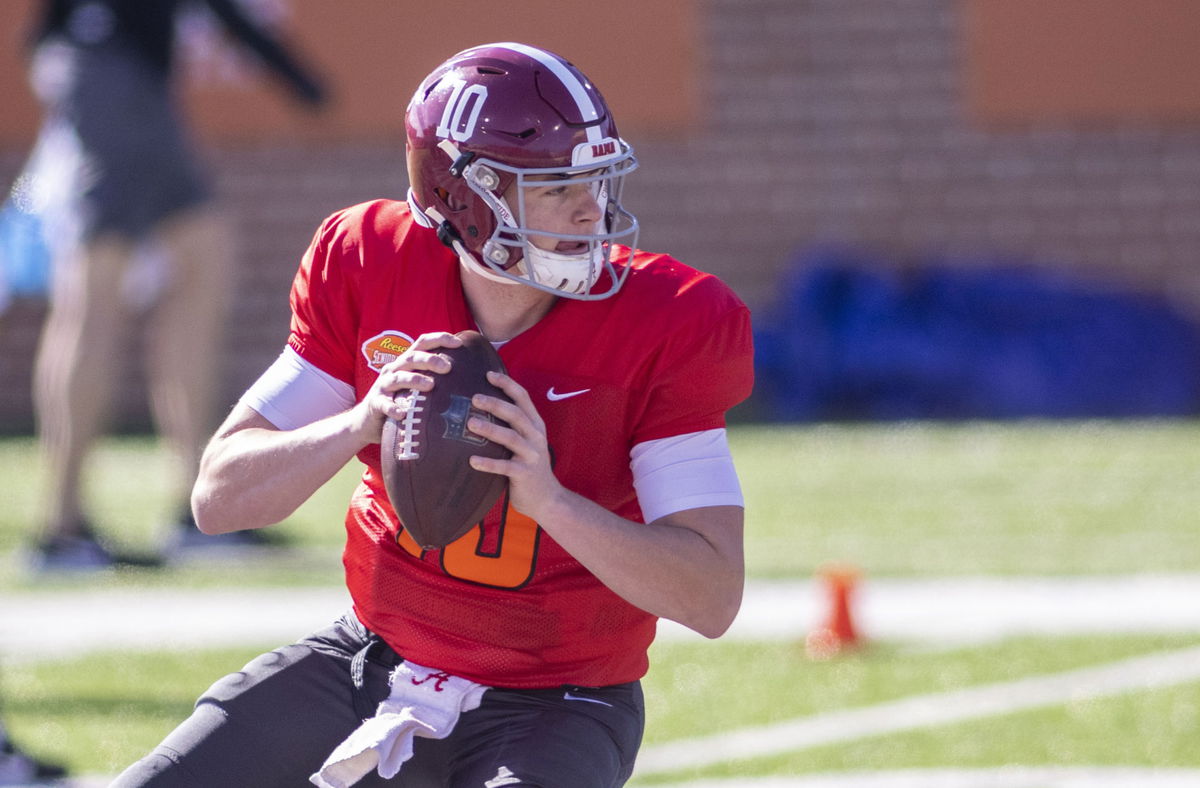 Jones was the fourth quarterback to be drafted in the first round of the 2021 NFL Draft behind Trevor Lawrence (Jacksonville Jaguars), Zach Wilson (New York Jets), and Justin Fields (Chicago Bears). The talented youngster will battle it out with Cam Newton for a starting berth in Boston.
But Jones already has a new fan in the form of the popular sports analyst, Stephen A. Smith.
ALSO READ – Former NFL GM Labels New York Jets as the 'Winners' of the 2021 NFL Draft
Stephen A. Smith compares Mac Jones to the legendary Tom Brady
Outspoken TV personality, Stephen A. Smith, was all praise for Mac Jones on the latest segment of ESPN's First Take. He even went on to compare the Florida-born quarterback to 7-time Super Bowl winner, Tom Brady.
"Then you take into account all the years of success we saw from New England, at the quarterback position. What did they have a guy relatively immobile, but a guy that was a football savant that d, what everybody else was supposed to do. That knew what he needed to do. That was an accurate passer. That was a system quarterback. Bill Belichick, Josh McDaniels are still there."
"When you look at somebody if you had to look at one quarterback in this draft that was similar in style, and similar in terms of what the kind of things that Tom Brady brought to the table, and what we anticipate this guy will be able to bring to the table."
Patriots Nation @macjones_10 pic.twitter.com/8tpf3Q3ZRT

— New England Patriots (@Patriots) April 30, 2021
"He (Mac Jones) was that one guy and I think that he landed in the perfect spot. And we're talking about the New England Patriots. I don't give a damn about the best tradition. I give a damn about the recent history of the New England Patriots over the last 20 years," Smith said on the show.
ALSO READ – Houston Texans Draft Davis Mills as their First Quarterback in the 2021 NFL Draft
The post Stephen A. Smith Draws Parallels Between Tom Brady and Patriots Rookie Mac Jones appeared first on EssentiallySports.