WATCH: When Brock Lesnar Lost his Calm During a Match Against a Former WWE Champion
At the 2018 Royal Rumble, Brock Lesnar defended his WWE Universal Championship against Braun Strowman and Kane. During the match, Lesnar lost his cool at Strowman and dealt a painful blow to the Monster's face. But what caused the Beast to act out in the first place?
Brock Lesnar actually punched Braun Strowman in the face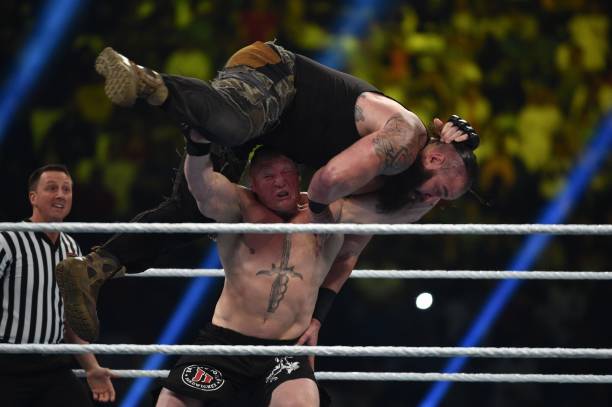 In the buildup to the triple threat match, both Kane and Braun Strowman manhandled Brock Lesnar. Manhandling a specimen like Lesnar is an impressive feat, but when the Beast bites back, it gets ugly.
With Lesnar on his knees, Strowman kneed Lesnar in the face, which hit hard. It wasn't a worked knee and could've legitimately concussed Lesnar. However, the Beast responded in a manner only the Beast would. He fired back with a knockout blow to the side of Strowman's temple.
The punch dazed the Monster Among Men, but he got got back into the match quickly. This was the first known instance of Brock Lesnar losing his cool at another superstar and actually punching them. To be fair, the knee from Strowman could've caused significant damage to Lesnar.
It isn't fair to say Strowman had it coming, but the moment added a layer of reality to their feud. In the end, Lesnar hit an F5 on Kane to retain the WWE Universal Championship and head to WrestleMania.
How did Strowman react to the punch backstage?
After the match, Strowman and Lesnar shared a laugh and let bygones be bygones. While this was the professional way to go about, it might surprise some given Lesnar's dangerous nature. He talked about the moment in an interview with Talksport.
"We laughed about it afterwards. It is what it is. We got to the back, and I said, 'Hey, my bad,' he said the same thing and we went about our business. We're both grownups, we both knew what we were getting into and at the end of the day, we're both very dominant males and neither of us wanted to give in an inch, so in the end we took an inch from each other."
"Working with Brock, I go in with the mentality that it's a real fight. You have to. I remember Royal Rumble a couple of years ago, I got a little ants in my pants, so did he and we threw some heavy hitters at each other and carried on from there. Let's face it, Brock's one of the baddest human beings on the planet and I enjoy it, I like the physical aspect of it."
Lesnar and Strowman would wrestle each other a few more times, most recently at the 2020 Royal Rumble where the Beast eliminated Strowman and Keith Lee at the same time.
Read more: Reason Brock Lesnar And Chris Jericho Almost Got Into A Real Fight in WWE
The post WATCH: When Brock Lesnar Lost his Calm During a Match Against a Former WWE Champion appeared first on EssentiallySports.