'Wasn't a Goal of Mine': Wizards' Bradley Beal Opens Up On Competing Against Steph Curry for Scoring Title
The NBA scoring championship has been fascinating this season. After dominating the charts for the majority of the season, Bradley Beal is now trailing Warriors' talisman Steph Curry by 0.4 points.
Curry has been in red-hot form since the All-Star break, averaging a ridiculous 34.4 points, 5.4 rebounds, and 4.9 assists per game for the Dubs. While Curry has been putting up career-high numbers, Beal hasn't shied away from the competition and has been averaging 31.4 points, 4.7 rebounds, and 4.4 assists per game for the season.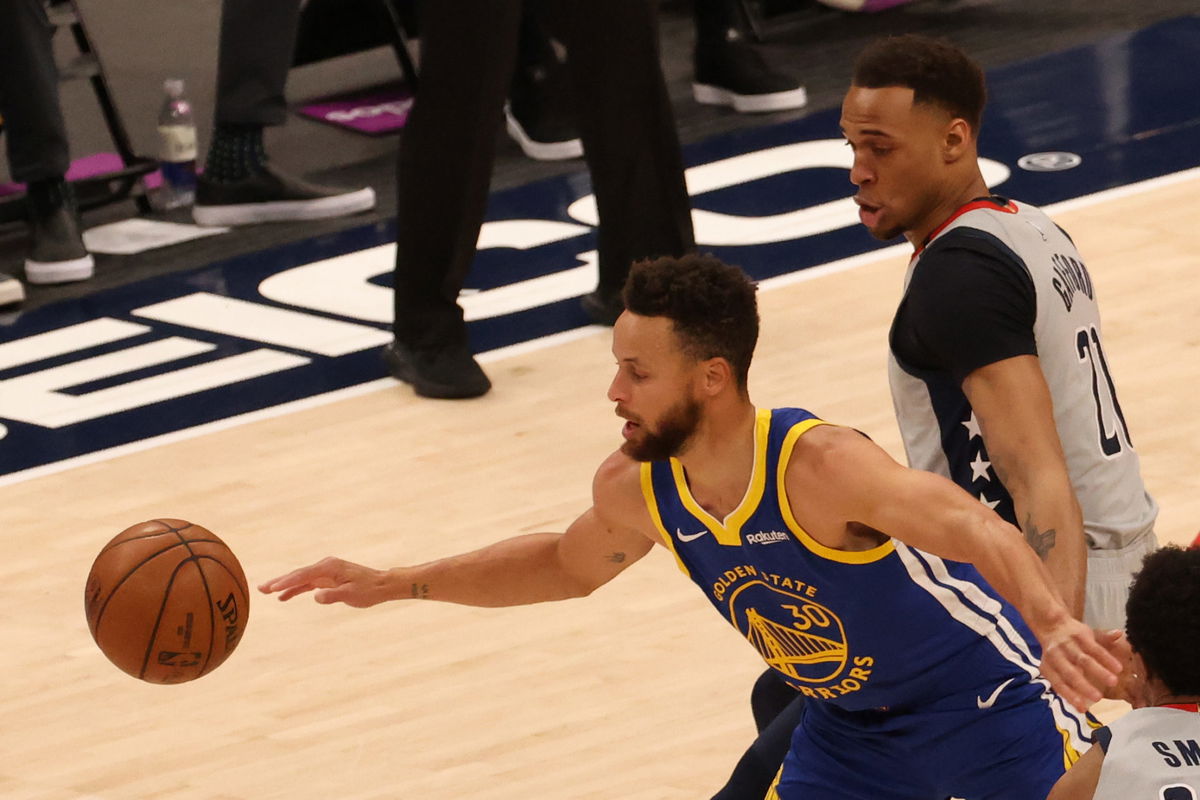 With a handful of games remaining, the scoring title might go down to the wire, and given how prolific both Curry and Beal have been this season, either of them could win it.
ALSO READ: 'Not Ahead of Jokic': Former NBA Champion Says Stephen Curry Isn't a Top Three MVP Candidate
Bradley Beal not concerned about Steph Curry leading the scoring title
Given how tight the race has been all season, one could claim that Beal might be focused on the scoring title. But the 27-year-old cleared the air regarding the same and spoke about his priorities.
In an appearance at ESPN's The First Take, Beal opened up about battling Curry for the scoring title and said, "Nothing's changed for me. I've been doing the same thing and playing the same way as I've been playing the last two or three years. Nothing's changed. I feel like I've been putting up big numbers, but a lot of those numbers I've been taking L's. So now we're in a position where we're winning and playing some of the best basketball we've been playing all year and at the right time. So that's always been my main focus and priority."
The 3-time All-Star spoke about how he would feel if he was to trump the 2-time MVP for the title. He said, "It would be remarkable to win that, but that wasn't a goal of mine at the beginning of the year, so I'm not making it one now. But if it happens, it happens, I'll be happy. I'm not gonna sit here and be naïve about it."
With three games left, Beal might have a chance at beating Steph for the scoring title, but one of his biggest hurdles will be his recent hamstring injury. Will Bradley Beal make his return in the regular season and trump Steph as the lead scorer?
The post 'Wasn't a Goal of Mine': Wizards' Bradley Beal Opens Up On Competing Against Steph Curry for Scoring Title appeared first on EssentiallySports.