'Road For Back-to-Back Starts': Lakers' LeBron James Ready to Repeat as NBA Champions
The Lakers, in 2019-20, turned victorious in one of the most unique and demanding seasons in league history. They defied the odds, worked at their optimum level even while dealing with the psychological pressure around the pandemic, and became champions. 
After a long wait, that moment came when the Lakers finally booked the perfect night for revealing their 17th championship banner. It all happened in style and under the rush of some raw and real emotions.
LeBron James addressed the crowd like a King talking to his throne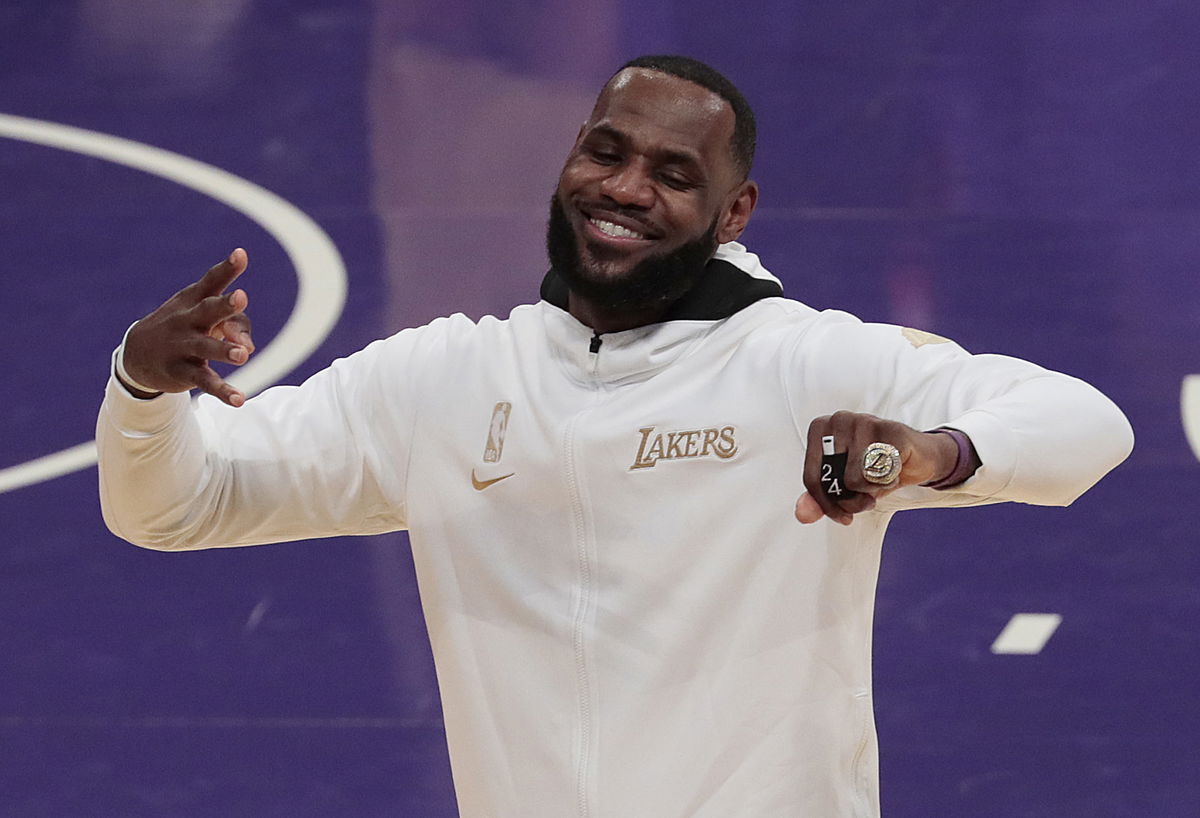 King James, who came back for two games (after missing 20) only to again reinjure himself, finally made a return on the court. However, this time, he did not step on the court to deliver buckets but to deliver a gripping speech. The 36-YO was the cornerstone for the Lakers' success last year and hence it was pivotal to have him release the 17th championship banner.
In his address, that came after Anthony Davis and Jeanie Buss finished theirs, the Akron Hammer explained why they waited so long for the release. The 4-time champion emotionally expressed, "On behalf of my teammates, coaching staff, training staff, myself, and other team captain, we would not be sitting on this banner without you guys. I know we're missing a lot of our Laker… but this is absolutely for you guys. We said we will not reveal this banner until we have some of you guys in the seat. So, this is you guys' moment. We had our ring night. We wanted you guys there but we wanted to save the banner for you all. [We] love you guys. That road for back-to-back starts in about a week."
Read also – When Will Laker's LeBron James Return? NBA Insider Shams Charania Has an Answer
What made that 2019-20 victory for the Lakers ever so special?
Well, there were one too many things that helped the championship win become memorable. For one, the Lakers finally ended their seven-year playoff drought and won a title after a gap of 10 years. Plus, with that 17th win, they tied the Celtics for most number of championship wins for a franchise. More importantly, this was the Lakers' way of paying their highest regards and tribute to their franchise face, Kobe Bryant, who lost his life earlier in the season.
Last but not least, the victory came in a year that saw so much turbulence as a result of the pandemic. All-in-all, the 2019-20 season became a memorable one and hence the banner release ended with the song "We are the champions", perfectly suiting the auspicious occasion.
How did you like the address? Help us know your feelings in the comments.
The post 'Road For Back-to-Back Starts': Lakers' LeBron James Ready to Repeat as NBA Champions appeared first on EssentiallySports.