'It's a Terrible Feeling' – Robert Whittaker Gets Brutally Honest About How He Feels Before Every UFC Fight
A UFC fighter is one of the strongest and the scariest men on the planet. However, they are still human beings and have rational fears and anxieties. Take Robert Whittaker, for instance. With a nickname like 'The Reaper,' it's hard to imagine that he would be scared of anything.
However, that is exactly the case, and he appeared on an Australian talk show, FOX SPORTS AUSTRALIA, to talk about his feelings before a fight. The interviewer put the question forward to him, and Whittaker revealed it was terrible.
"Moments before a fight? Why am I doing this? This is terrible. It is. The pressure and the feeling from the whole day when I wake up and when I'm in the octagon. They lock that bolt, and there's no one in there except the guy that's trying to beat me up," Whittaker said.
He reiterated the fact that it was a terrible feeling and almost called it terrifying. The interviewer asked him about the correction, and Whittaker elaborated. "Not terrifying, it's terrible. There's just so much pressure. Every single fighter, I'm like, why am I doing this," he answered.
It was an honest insight into the mind of a man who looks like he's completely invincible in the Octagon. He has won 12 out of his last 13 fights, and the only loss came against the current middleweight champion, Israel Adesanya. He lost his middleweight belt, but he'll be very keen to get it back.
Robert Whittaker vs. Kelvin Gastelum: A perfect performance
The Aussie was in sublime form in his last match against Gastelum and dazzled the fans with his wide arsenal of kicks and combos. Gastelum had no answer for Whittaker's stand-up game and almost seemed to lose every single exchange on the feet.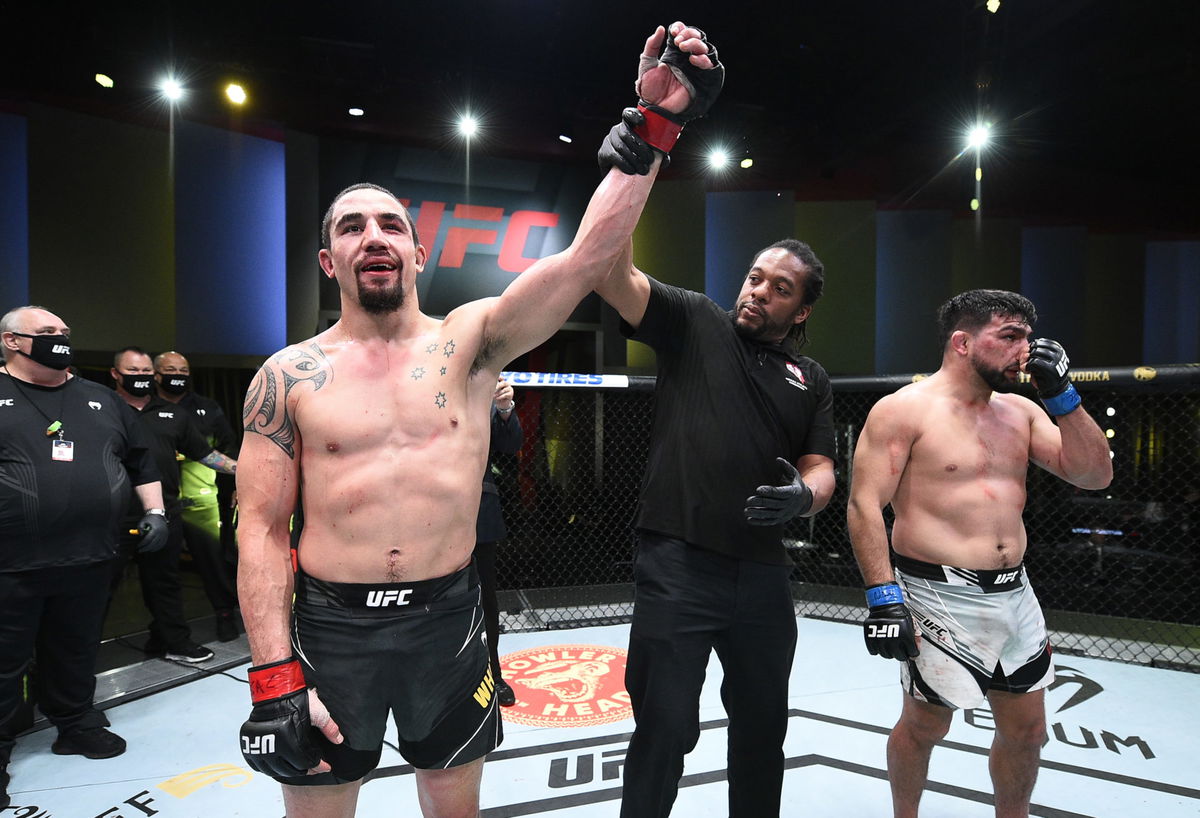 However, the esteemed wrestler couldn't cut it on the ground either, as Whittaker took him down four times compared to Gastelum's one. It was a perfect performance, and Whittaker got the win via a unanimous decision, with all three judges giving him all five rounds.
Fans will be buzzing to see how he performs in his next fight, as it is definitely going to be a title fight against the winner of the title match between Israel Adesanya and Marvin Vettori at UFC 263.
Do you think Robert Whittaker will win the middleweight gold again?
Read More: Every Tattoo On Israel Adesanya and The Stories Behind Them
The post 'It's a Terrible Feeling' – Robert Whittaker Gets Brutally Honest About How He Feels Before Every UFC Fight appeared first on EssentiallySports.