Hall of Fame Coach Rick Pitino Believes His 1996 Kentucky Wildcats Could Beat Kareem Abdul-Jabbar's UCLA Bruins
NCAA basketball has been existing for over a century and the NCAA tournament officially began in 1939. Since then, there have been many legendary teams that have won the title. And if you ask Hall of Fame coach Rick Pitino which is the greatest, he will point to his Kentucky Wildcats team of 1996.
In his eight seasons with the Wildcats, the 1996 team was his only championship team. They finished with just two losses all season and were dominating every team they faced. This ruthlessness that they had is why Pitino feels the team could beat anyone, including Kareem Abdul-Jabbar's legendary UCLA Bruins team.
"The (1996) team, I'm not going to say we're the best of all-time because that's subjective," Pitino said. "I will say, when you're beating sec opponents by an average of 23 points in a really strong league, I believe my second unit could have won the national championship.
"I don't think that team could have been beaten. Their press was relentless. I don't think there was a team, go back to the great UCLA teams or the modern day teams."
In the history of the NCAA, there have been multiple undefeated champions and dominant teams but Pitino believes his Wildcats would trounce everyone.
Looking back at Rick Pitino's journey with the Kentucky Wildcats
Pitino began his head coaching career with Hawaii in 1975. The over a decade later in 1989, he finally got the Kentucky job. However, when he arrived, the team was in shambles. They had just been served with probation and many top players left. So it was a tough rebuilding job for him.
But in just his third season, Pitino brought the SEC regular season championship to the Rupp Arena. They also won the conference tournament and returned to the NCAA tournament. They continued to work hard and although they failed to make an impact at March Madness; they continued to prevail in the SEC.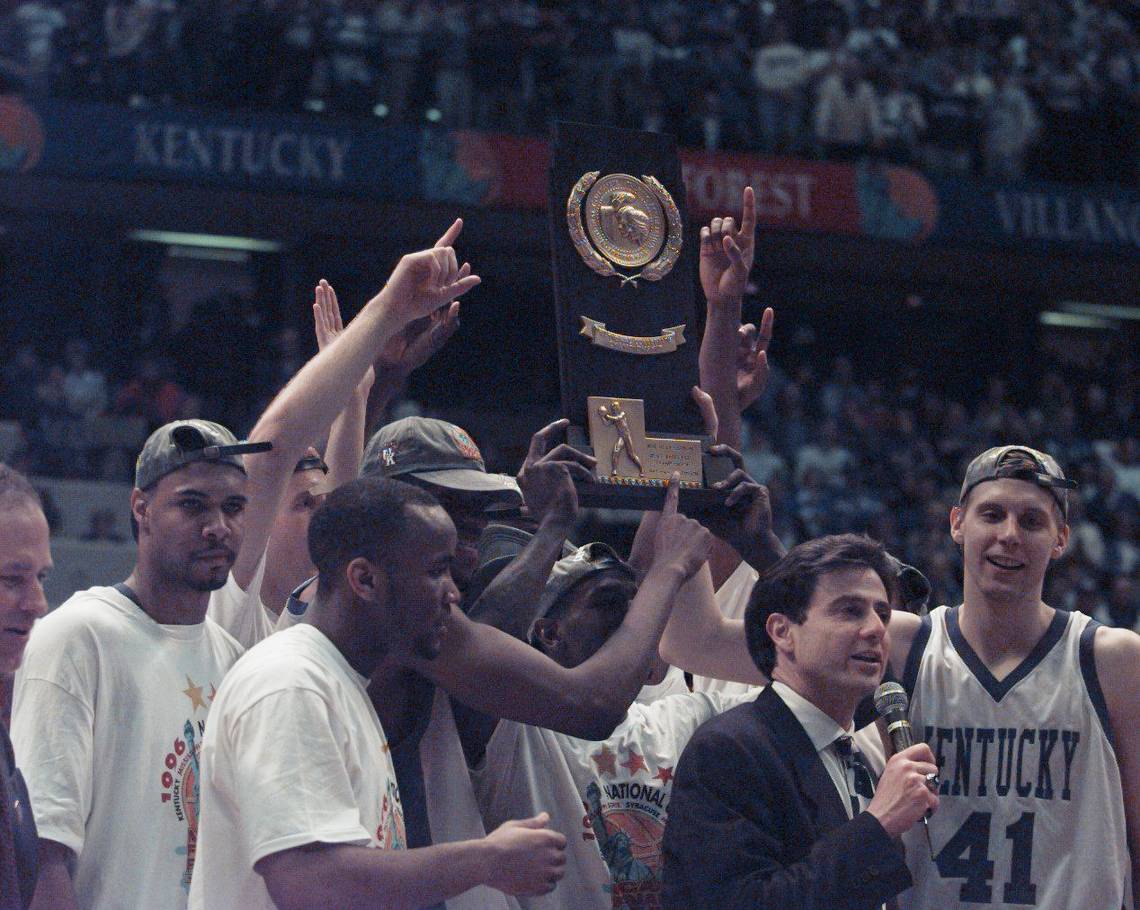 Finally in 1996, after seven years of unsuccessful attempts, the Wildcats embarked on a historic run to win the NCAA tournament. It was a fantastic achievement, and that officially announced Pitino as one of the best coaches in the country.
He took the Wildcats to the Final Four once again in the following season but couldn't go all the way. That was his final season at Kentucky. And so after that season, he left in 1997, leaving as one of the best Wildcats coaches of all-time.
READ MORE – Former Kentucky Wildcats Player Explains How Rick Pitino Helped Him On Offense And Be Able to Guard Shaquille O'Neal
The post Hall of Fame Coach Rick Pitino Believes His 1996 Kentucky Wildcats Could Beat Kareem Abdul-Jabbar's UCLA Bruins appeared first on EssentiallySports.