'I've Absolutely Moved On'- Dana White Gives an Update on Jon Jones' Possible Return
Former UFC Light Heavyweight champion Jon Jones has become an enigma for Dana White and fans alike. Ever since the Francis Ngannou and Stipe Miocic fight ended at UFC 260, he has been on the headlines more often than not.
Recently, White appeared for an interview where he talked about Jones' issue for the umpteenth time in the last two months. "Yeah, I've absolutely moved on," he said.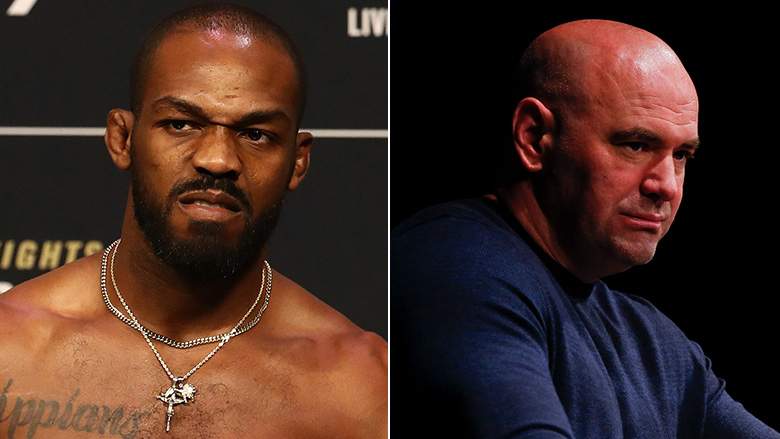 "Listen, I put on fights every Saturday. We have a window where we try to build some fights and make some things happen. If the fights don't happen within that window, we move on."
The UFC boss further said that he is adamant about the matchup between Derrick Lewis and Ngannou going further. "He beat Francis Ngannou. He's next in line, he's coming off of great performance and that's a wrap. We're moving on," he added.
When he was asked about Jon Jones' run in UFC coming to an end, White said, "That's up to Jon. He could absolutely fight again at 205lbs. He said he wouldn't fight Stipe and now Derrick and Francis are fighting so we'll see how that fight plays out."
The promotion bigwig further added that there is no wrong in going out on top either as he's undefeated and unconquered in the whole UFC career.
READ MORE: 'I Don't Know How it's Like to Have Feminine Shins'- Luke Rockhold Takes a Dig at Chris Weidman
Dana White explains how Jon Jones is undefeated
Jones' record (26-1) states that he has not won one match out of 21 professional matches. That fight came against Matt Hamill way back in 2009. The boss clarified how that fight was easily stolen away from Jones.
White said Jones didn't lose that match but actually won it in dominating fashion like most of his fights. He further added that Nevada Athletic Commission was the weakest at that time.
"There was a referee that shouldn't have been in there and he stole that fight from Jon Jones. So, it wouldn't be a bad thing for him to go out on top," White concluded.
Many regard Jones as the greatest UFC fighter of all time. He has worked hard after dropping his light heavyweight title to enter the heavyweight division.
He would certainly want a better exit from the promotion, but for that to happen, either party needs to come at a truce.
Do you think Jones will fight again for the promotion?
The post 'I've Absolutely Moved On'- Dana White Gives an Update on Jon Jones' Possible Return appeared first on EssentiallySports.