'I See Change': Popular Broadcaster Sees Clippers' Kawhi Leonard to Miami Heat as a No-brainer
In 2020, after the Clippers took a tough beating from the 1-3 down Nuggets, the franchise called shots for a change. They sacked coach Doc Rivers after seven years of his service to bring in Tyronn Lue. Also, Steve Ballmer's front office let go of 6MOY Lou Williams to receive Rajon Rondo and further added Serge Ibaka and Luke Kennard to their system.
However, even after all of those big changes running from the 2019 off-season, the Clippers are still facing misery. Even after holding rights to a scorer as consistent and almost robotic as Kawhi Leonard, they've failed to make a mark. So is it time to expect another huge trade?
Clippers' Kawhi Leonard to Miami Heat is becoming a real thing
This LA-based franchise has been a regular-season hero and a postseason zero, something that's stopping The Claw from earning his third ring. Even this year, they're 0-2 down against the Mavericks and those two matches were home games. So there are formidable chances that they'll make a shameful early exit. 
In a recent interview, sports broadcaster David Jacoby noted this and predicted the future. He confidently established, "I see what's happening to the Clippers, I see what's happening to the Heat, and I see change. I see Pat Riley on the phone, you know who he's calling? He's calling Kawhi Leonard, he's on the phone and he's going to bring Kawhi Leonard to South Beach. Everybody says, oh Kawhi Leonard wants to live in southern California. What else is nice? Southern Florida. I see the Clippers losing in round 1, the Heat losing in round 1. Both of those teams trying to make some change and I see Kawhi Leonard to the Heat this off-season. Tell me I'm wrong!"
That sounds real because the reigning EC Champions can no more rely on their current roster and need a big addition.
Read more – 'By the Weekend': Popular Sports Writer Believes Kawhi Leonard to New York Knicks Can be a Real Thing
Why would it be a surprising trade, and what makes Miami a good option?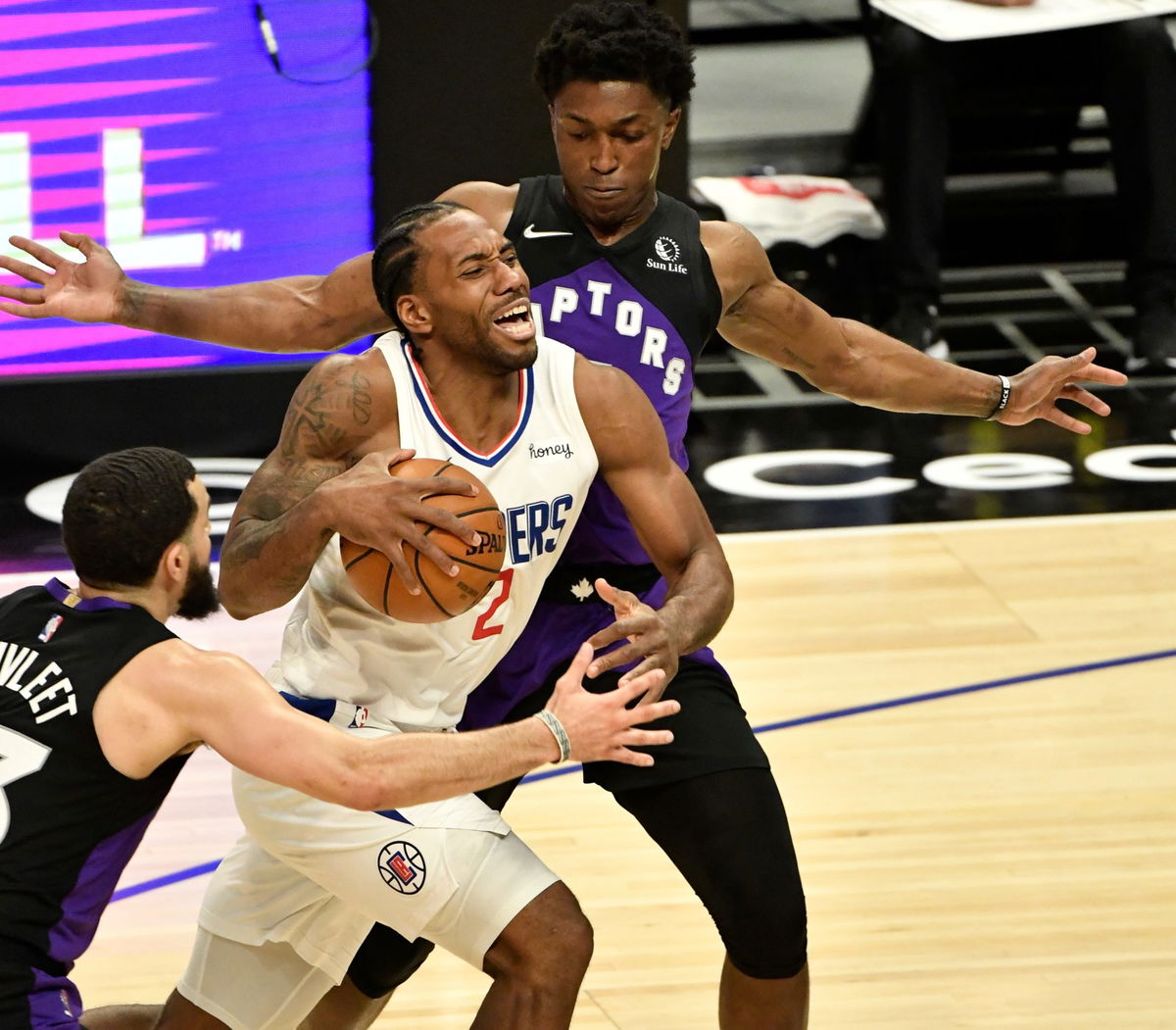 Once this season ends, the Clippers can offer the max cap of 35% to lure Kawhi Leonard. However, The Claw will have his right to decline the player option and move to free agency. Now, for many analysts, it was already surprising for them when Kawhi left the championship team in Raptors to join the Clippers. The city of Toronto was in mad love with Kawhi and he owned that franchise as the fans believed they would retire his jersey at Scotiabank Arena. Still, the 5x All-Star left them to play for his hometown.
Now, if he genuinely receives a call from Pat Riley, it will be attractive to join hands with Jimmy Butler and Bam Adebayo to form a tough team. The Heat can let go of Tyler Herro or devise a better package to attract The Claw in this off-season. If Kawhi is to hit the free agency, Pat would not like teams like the Knicks or even Raptors to sign the 30-YO. 
Do you agree with Jacoby's prediction? Help us know in the comments.
The post 'I See Change': Popular Broadcaster Sees Clippers' Kawhi Leonard to Miami Heat as a No-brainer appeared first on EssentiallySports.