Hublot, Burger King, and More: A Look at Floyd Mayweather's Sponsors From Past Fights
Floyd Mayweather is one of the biggest names in the history of boxing. The undefeated former multi-weight champion was easily the biggest commercial attraction the sport had ever seen. And the superstar boxer never shied away from flaunting it either.
Despite all the wealth, lavish lifestyles, and incredible fight purses, Mayweather had very few sponsors and endorsements throughout his career. So let's look back at his previous fights and see some of the most notable sponsorship deals Floyd Mayweather had.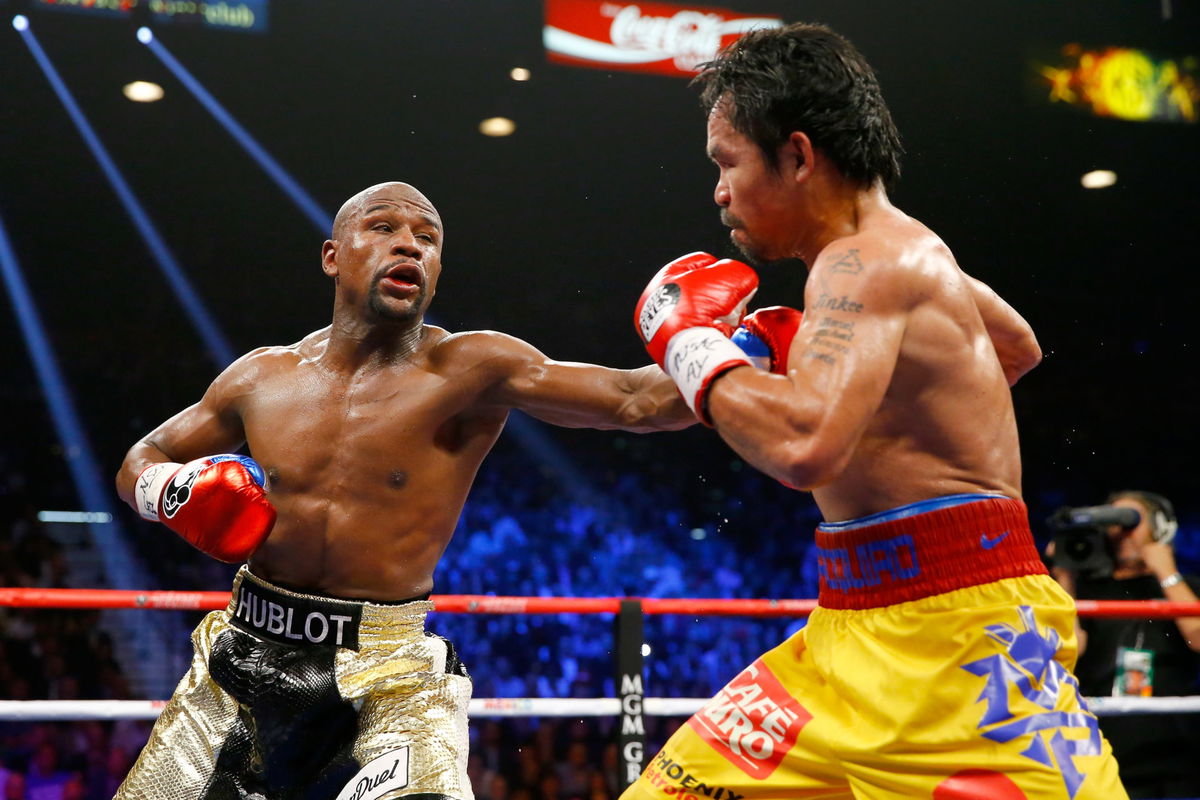 The 50-0 boxer's most notable sponsorships came in his lucrative, blockbuster fight against Manny Pacquiao. Hublot, Burger King, and Fanduel made it onto the trunks of the former multi-weight world champion as he defeated the Filipino superstar.
The only other deal he has is with glove company Grant Worldwide for his boxing gloves. They have backed him through most parts of his career and have even promoted the Logan Paul bout.
This will surprise fans since Mayweather is one of the most marketable athletes in the world. Moreover, every fight in his career attracted millions of views. However, Mayweather has admitted that his lack of sponsorships and endorsements is not because of a shortage in suitors but because his entry-level bid for sponsors is $1 million.
WATCH THIS STORY: Top 5 Best Selling PPV of Floyd Mayweather's Boxing Career

Other reasons Floyd Mayweather does not have many endorsements?
Given Mayweather's valuation of himself, it is no surprise that companies prefer to stay away. Even the biggest companies in the world will struggle to offer that sum considering they will have many other athletes on their books. But this is not the only reason for the lack of sponsorships.
Another reason 'TBE' does not have many deals is because he owns several businesses himself and even has his own promotional company. Therefore, it would make little sense for him to promote other companies rather than his own.
Besides this, 'Money Mayweather' is never far from controversy and has had his troubles in the past. This too could be a factor in his lack of sponsorship deals.
What do you make of Floyd Mayweather having only three sponsorship deals in his career?
READ MORE: 12 Fights That Shaped Floyd Mayweather's Legacy
The post Hublot, Burger King, and More: A Look at Floyd Mayweather's Sponsors From Past Fights appeared first on EssentiallySports.