'Your Pass' – Sainz Explains Unusual Ferrari Pit Board During Baku Free Practice
Carlos Sainz is often a quirky character in the F1 paddock. Although he's known for his quick pace on track, his personality shines through in every team he's raced for.
While his time at McLaren included jokes between him and Lando Norris, it seems Ferrari have joined in on Sainz's jokes. At the ongoing Azerbaijan Grand Prix, his race engineers put out a pit board during FP2 which was unique for a reason. After the session, Sainz explained what the pit board meant.
Carlos Sainz on Ferrari's pit board: It's a joke with the team
Over the years, Sainz made very good relations with his team members. It seems like his relationship with his new team at Ferrari is also a warm one. In fact, the engineers of the Maranello-based team also chipped in with an ongoing joke they have with Sainz.
One of the most talked about moments of FP2 in Baku yesterday was Sainz's pit board, which read "Your Pass." The Spaniard clarified they put the pit board out because of a joke that was ongoing since Thursday on a WhatsApp group with the team.
Quando Sainz stava per tornare in pit lane a fine sessione, dai box gli avevano detto di guardare la pit board perché c'era un messaggio importante per lui. Carlos rientra, vede la pit board con scritto "Your pass" e dice "You're crazy, but I like it" #AzerbaijanGP pic.twitter.com/NfqdG9Mh4o

— Gianluca D'Alessandro (@Gianludale27) June 4, 2021
He said, "It's a joke with my team. You know, we have a WhatsApp group with three engineers, and my crew, and my entourage, let's say. Yesterday they asked us to bring the pass to go to dinner, because we needed to go through the track.
"So three of us went like, 'Don't forget to bring the pass.' And then all of a sudden, we all put it at the same time in the WhatsApp group. So then we spent the whole night texting each other, 'Don't forget to bring your pass.' And then we started this joke of putting, 'Don't forget to bring your pass' in every possible area of the paddock."
READ MORE: Why did Ferrari Sign Carlos Sainz?
Sainz believes the joke got the team going ahead of the weekend
Although Sainz termed the joke "stupid," he believes it got them going with positivity into the weekend. The Spaniard also thinks the joke will go wild since his team are going out of their way to keep it running.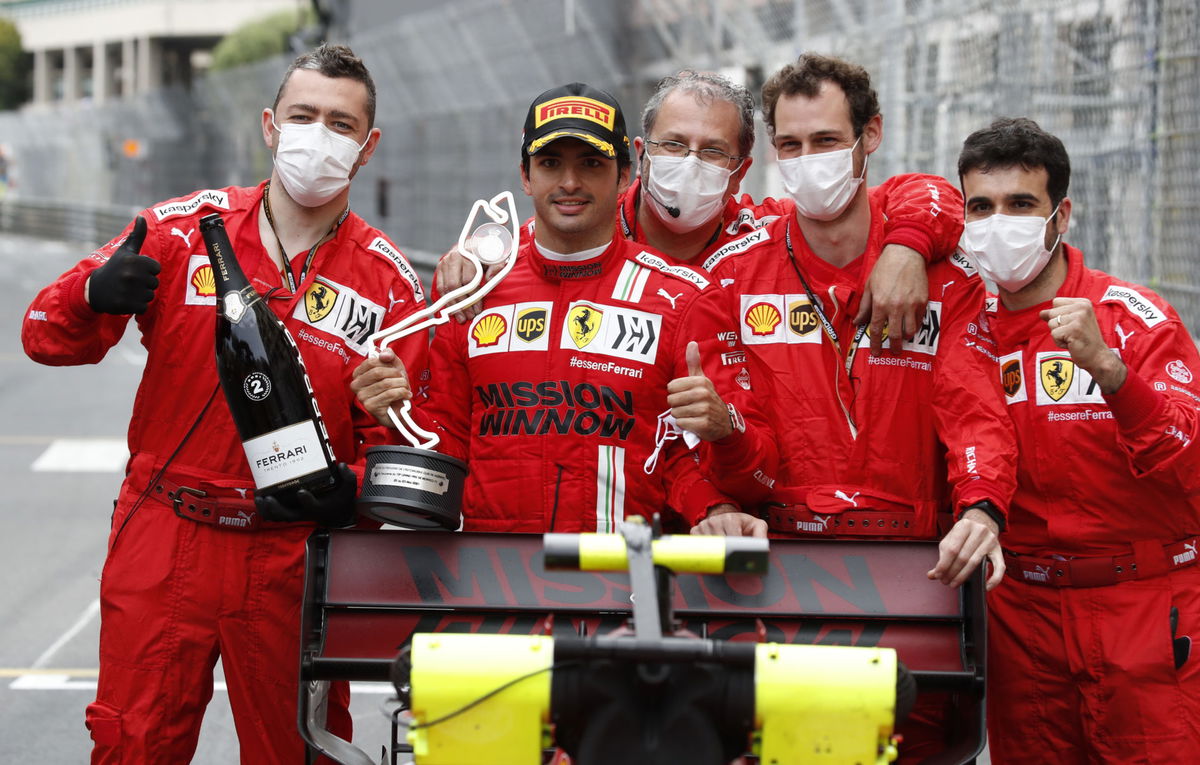 "I don't know, it's just a stupid joke that got us going last night," said Sainz. "And it's gonna get wild, I think. Because if they even went for it on the pit board, it means that they are really going to try and put that sign everywhere."
While the team is getting familiar with Sainz, this joke would definitely enhance the current team chemistry off-track. As far as on track performances go, Sainz would be delighted after an impressive showing in Baku yesterday. Finishing P3 in both practice sessions, Sainz will look to put in a strong performance in qualifying later today.
WATCH STORY: 5 F1 Crashes Which Stunned the World
The post 'Your Pass' – Sainz Explains Unusual Ferrari Pit Board During Baku Free Practice appeared first on EssentiallySports.