Bucs O-Linesman Tristan Wirfs Talks About How He Internalized a Piece of Advice from Tom Brady
Tom Brady is the GOAT among quarterbacks. But even the best in the business need some help from their offensive line. And that couldn't have been made any clearer than in Super Bowl LV.
While Brady's O-line held up to help the QB make the big plays, Patrick Mahomes was seen sprinting the length of the field at times as his crumbled.
Brady had the skill players to pull off their sensational Super Bowl win. But none of it would have been possible had not the Buccaneers' O-line done its due diligence.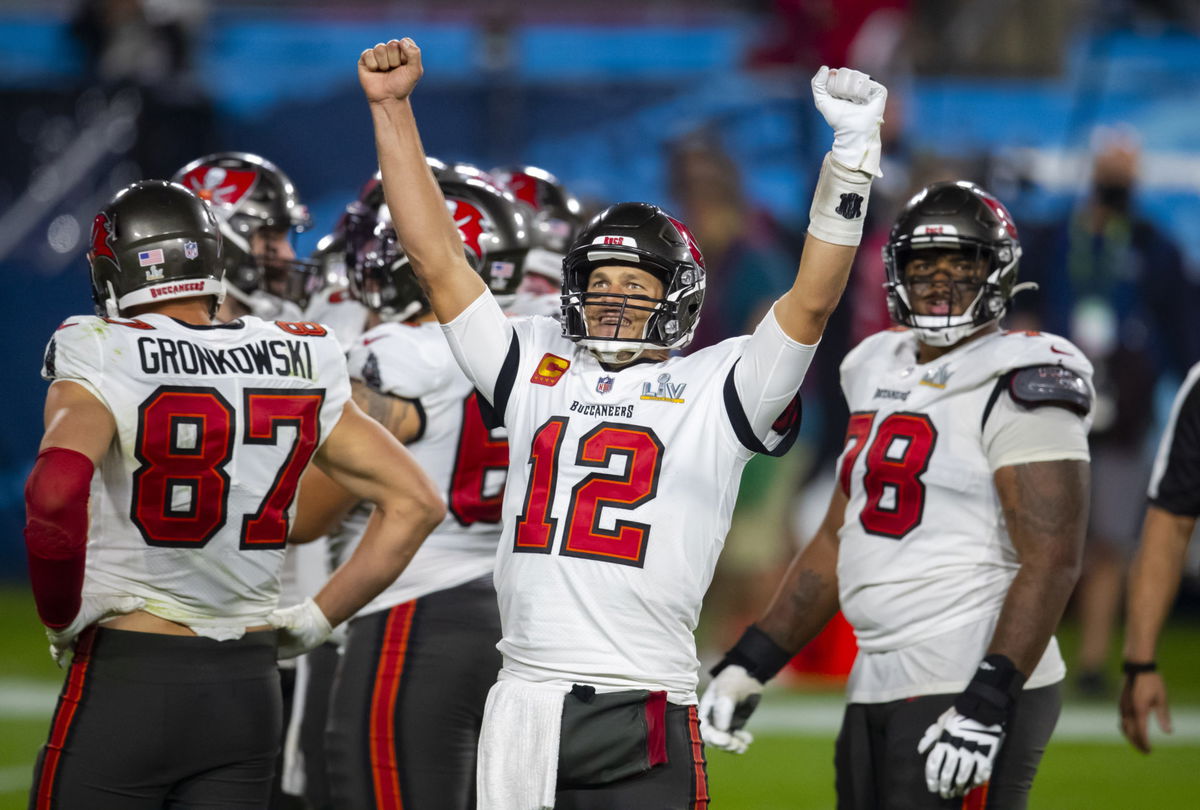 READ MORE – Biggest Winners and Losers as Aaron Rodgers Fails To Turn up to Green Bay Packers' Mandatory Minicamp
Part of that O-line was Tristan Wirfs. A rookie in 2020, the offensive tackle put on an immaculate showing in his debut campaign. Drafted 13th overall by the franchise, he proved to be an integral part of a solid Bucs O-Line.
The pressure though was immense. In his first season, the right tackle had to provide cover for the evergreen Tom Brady. And that he did in style allowing just one sack through the campaign.
Now entering year 2, Wirfs reflected on his rookie season and what it was like to play with the seven-time Super Bowl champion.
Protecting Tom Brady the only goal
Interacting with the media after a team practice season, Wirfs talked about Brady and how having him under center is always on his mind.
"Having Tom Brady back there, that's always in your mind. Just making sure nobody comes close to him or gets near him," Wirfs said.
But despite the pressure, Wirfs picked up some key advice from Brady during his rookie year.
"He told us, I remember he told us last year. He said, 'Don't get beat fast and don't get beat inside and we'll be alright.' So I kind of held onto that pretty tightly last year."
The quarterback underwent a major knee surgery over the offseason. But in what is good news for Bucs fans, Brady is back and running. The quarterback was recently seen practicing with his Bucs teammates.
READ MORE – OPINION: Why Were NFL Franchises Unwilling to Cough Up a First-Round Pick for Julio Jones?
And while he might not be match ready yet, he can be rest assured that Wirfs and the rest of O-Line will have his back.
The post Bucs O-Linesman Tristan Wirfs Talks About How He Internalized a Piece of Advice from Tom Brady appeared first on EssentiallySports.