"Biggest Rival": Novak Djokovic Picks Rafael Nadal Over Roger Federer as Arch-Rival Before French Open 2021 Clash
Serbian World No.1 Novak Djokovic has reached his 11th Roland-Garros semifinal at the French Open 2021. He steered past the Italian World No. 9 Matteo Berrettini in the last eight matches, 6-3, 6-2, 6-7 (5), and 7-5.
Consequently, the Serb now stands against the undisputed champion of the tournament, Spanish World No. 3 Rafael Nadal. The duo last played at the Roland-Garros final in 2020, where the Spaniard won in straight sets, which included a bagel.
Now, looking ahead, the 18-time Grand Slam champion opened up on his rivalry with Nadal. It will be a record 58th time that the two will meet on a tennis court and the eighth time at Roland-Garros.
Read More: Rafael Nadal Snatches Jimmy Connors' Insane Record After Victory at French Open 2021 Quarter-Finals
Novak Djokovic talks about Rafael Nadal ahead of French Open 2021 clash
Djokovic revealed the magnitude of the match against Nadal. He did not hold back from accepting that thus is the biggest challenge of the sport.
"It's not like any other match. I mean, let's face it, it's the biggest challenge you can have, playing on clay against Nadal on this court, on which he has had so much success in his career. In the final stages of a Grand Slam, it doesn't get bigger than that," Djokovic said.
Furthermore, the Serbian ace explained the historic nature of their rivalry and that he feels privileged to have played with Rafa so many times.
"So, of course, each time we face each other, there's that extra tension and expectations. The vibes are different, you know, walking on the court with him," Djokovic continued.
Djokovic breaks down the thrill semi-finals match up vs. Nadal#RolandGarros pic.twitter.com/C63Jiv3PDT

— Roland-Garros (@rolandgarros) June 10, 2021
Additionally, the 34-year-old also reiterated that competing with Nadal and the Swiss maestro Roger Federer made him "a stronger player." Djokovic added that it was from the two that he understood what he was required to do to match their level.
Conclusively, he even chose his greatest rivalry between Nadal and Federer. "Yeah, I'd probably pick Rafa as the biggest rival I've ever had in my career, and the anticipation for the match against him, any match or any surface or any occasion, is always different from any other," Djokovic ended.
Watch this story: Rafael Nadal vs Novak Djokovic Rivalry at French Open
Djokovic's chances of stopping Nadal at Roland-Garros
The Spaniard has only lost twice in his career at Roland-Garros, and one of his conquerors was none other than Djokovic. Hence, the Serb understands what he would need to make the impossible happen again.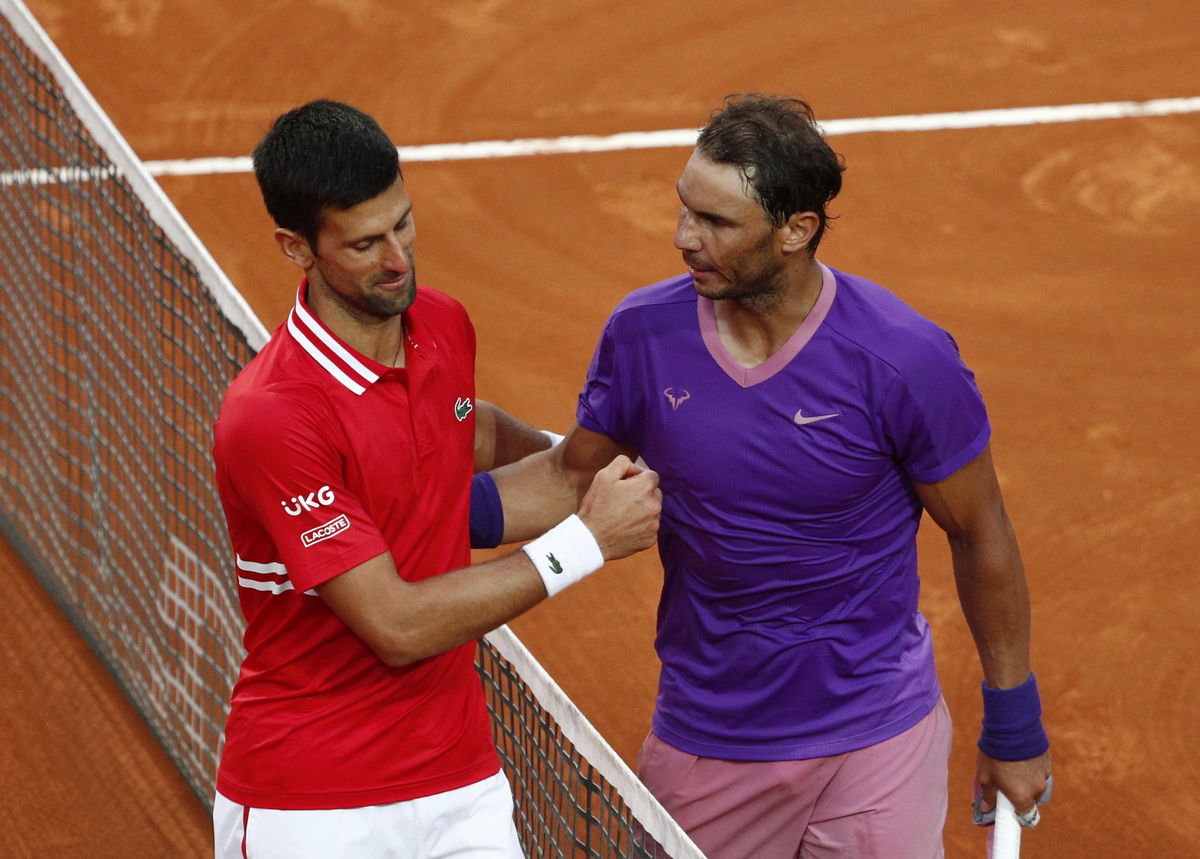 On the other side, Stefanos Tsitsipas and Alexander Zverev will fight for a place in the final. Their skill on the court also cannot be ignored. It remains to be seen who becomes worthy of lifting the French Open 2021 men's singles trophy on Sunday.
Also Read: "I Paid Hundreds for 2 Sets and Half": Fans Refuse to Leave During Novak Djokovic vs Matteo Berrettini at French Open 2021
The post "Biggest Rival": Novak Djokovic Picks Rafael Nadal Over Roger Federer as Arch-Rival Before French Open 2021 Clash appeared first on EssentiallySports.