Gilbert Arenas Explains How Lakers' Lineups Cost them Their Championship Defense
The Los Angeles Lakers were one of the favorites to win the title this season. With LeBron James and Anthony Davis leading the line along with a retooled roster, the defending champions were one of the strongest teams in the Western Conference.
But after the conclusion of the first round, LeBron and Co. have unexpectedly not made it to the second round. Injuries certainly played a massive role in this. During their matchup against the Phoenix Suns, the Lakers lost superstar Anthony Davis during a pivotal part of the series. With Davis injured and Bron not at 100%, the Lakers crashed out in only six games.
Gilbert Arenas explains how lineups cost the Lakers' their title defense
While Davis' injury was a major blow for the Lakers, another cause of concern was the underperforming supporting cast, and former All-Star guard Gilbert Arenas stressed on the same.
In an appearance on the No Chill podcast, Arenas explained how the lineups played a major role in the Lakers' downfall. He said, "You have a lineup which when people say oh the Lakers is this, and it's true it's the lineup more than the players. If you have Anthony Davis and LeBron James, right, and then you have three non-shooters or three non-creators right, you're gonna be in a corner, corner slot."
The 3-time All-Star also explained why LeBron James looked slow in the game and said, "It's two versus five on defense. Now you're talking about a 35-year-old guy you have to work harder with that lineup so when they say LeBron looks slow, yeah, he looks slow because he has to go through five guys all the time."
READ MORE- Ray Allen Snubs LeBron James and Dwyane Wade From His Former Teammates Starting Five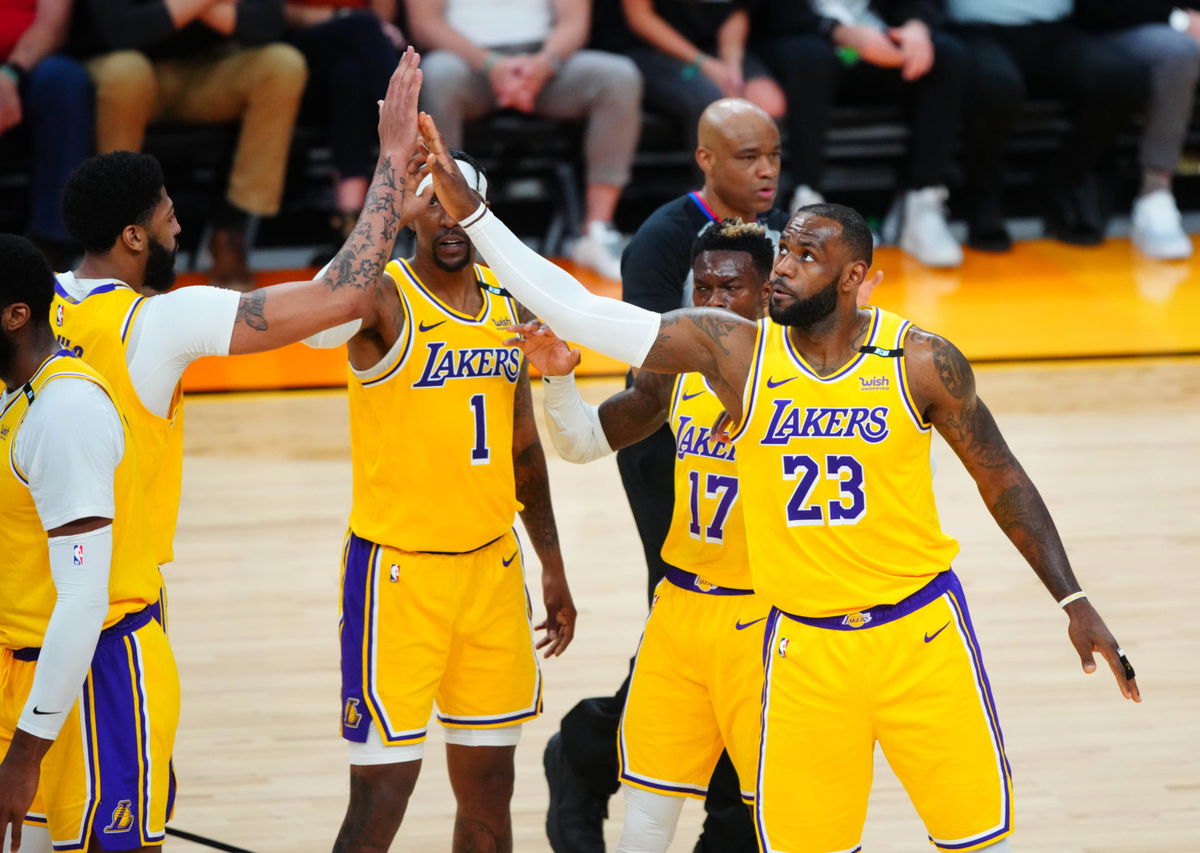 The 39-year-old certainly made some valid points about the Lakers. While they were an amazing team defensively, the champions certainly lack three-point shooting and made only 29.9% of their three-pointers in the playoffs.
With spacing pretty much absent, the Purple & Gold became heavily reliant on the talents of LeBron and Anthony Davis and were in shambles once the duo was off the court.
With multiple players hitting the free agency in the off-season, Vice President Rob Pelinka has some major decisions to make. Will the Lakers re-sign their new additions like Dennis Schroder and Andre Drummond or will they focus on retooling their roster?
The post Gilbert Arenas Explains How Lakers' Lineups Cost them Their Championship Defense appeared first on EssentiallySports.