'I Will Be Slicing and Dicing Him'- Leon Edwards Warns Nate Diaz
UFC welterweight elites, Leon Edwards and Nate Diaz will compete in the main card of UFC 263. The battle could turn out to be one of the best. Both men would want to be on the winning side, as that could seal their ticket for the championship battle next.
Recently, Edwards appeared in an interview and described his feeling of fighting against a veteran like Diaz. "(Nate) is one of the biggest names in UFC. Ya, for sure, to have someone like Nate step up and compete…I'm looking forward to it," he said.  
'Rocky' Edwards then agreed with the interviewer on Diaz being respected by everyone. "Yeah, for sure, 100%. Like I said, he has been same way from start and you know, he never shied away from fights"
He added, "he is one of those guys when you do compete. It will be right in front of you. You know he is gonna bring the best in you. I can't wait to feel that you know, to go out there and compete with Nate."
Apart from bringing in high intensity and energy into the fights, Diaz is also known for getting horrific cuts and a surgery is always around the corner. Edwards assured that the condition won't change as he is going to bring his best against him.
"I feel like he has a lot of cuts in every fight. If he doesn't bleed, it's not a fight (giggles). So he will be definitely bleeding in this fight you know. I will be slicing and dicing him all fight. So, it's gonna be good," he concluded.
READ MORE: Why Does Nate Diaz Not Have Tattoos On His Body?
How Leon Edwards and Nate Diaz are entering the fight?
Edwards (18-3) is riding on an impressive unbeaten streak and will enter the bout confidently. Although his last fight against Belal Muhammad ended in a no contest (eye-poke), his feats prior to that were impressive.
He picked up some notable wins against the likes Rafael dos Anjos and Donald Cerrone during his 9 fight unbeaten streak.
Diaz, on the other hand, hasn't competed in 2 years. His last battle was against 'Gamebred' Jorge Masvidal for the inaugural BMF belt. The match was stopped after he was rendered unable to continue after a cut on his face between the 3rd and 4th round.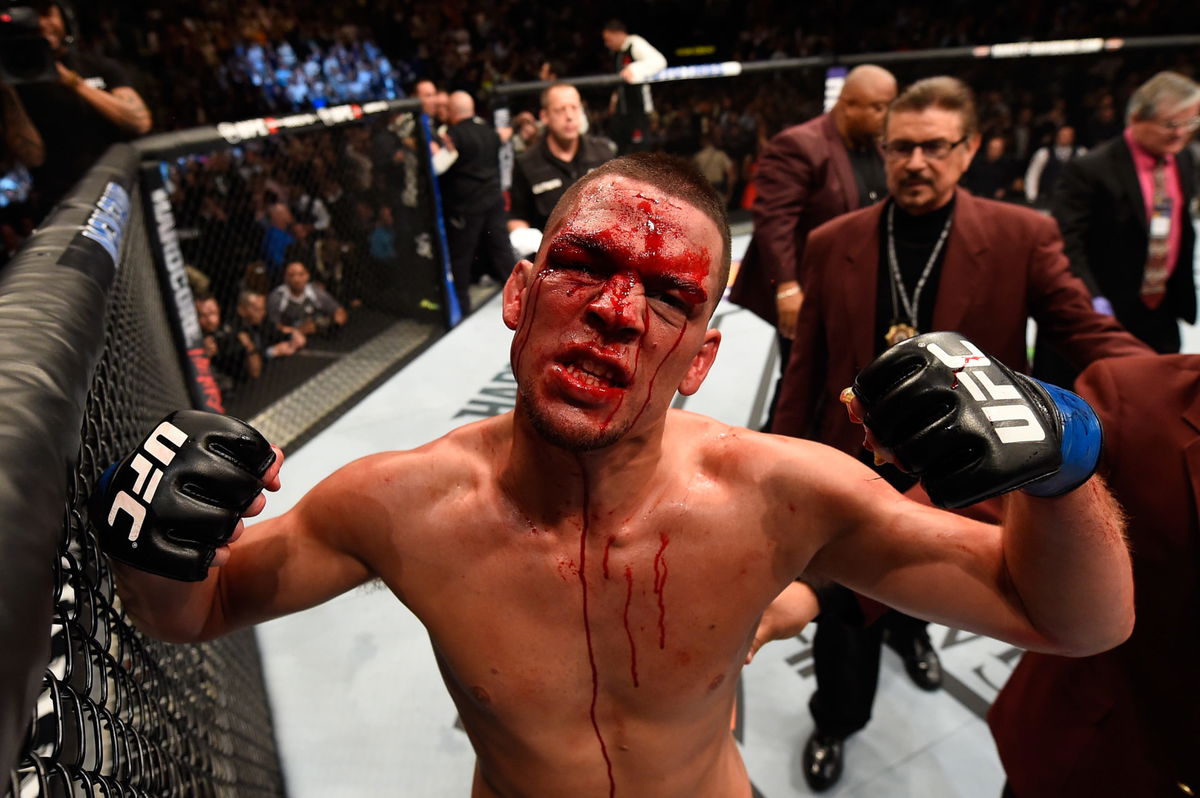 Prior to that, he had won against Anthony Pettis via a unanimous decision. It will be a battle of two masters of the game. They will also make history as both will compete in a non-title 5 round match, a first in promotion's history. The winner is certain to fight for the gold next.
Who will prevail in the end?
WATCH THIS STORY: Event Recap: best fights from Floyd Mayweather vs Logan Paul
The post 'I Will Be Slicing and Dicing Him'- Leon Edwards Warns Nate Diaz appeared first on EssentiallySports.