'In Dress Socks': Chris Bosh & Dwyane Wade React to Miami Heat President's Comments on Poaching LeBron James
LeBron James, although in his 37th year, is still very much of a hot entity any team would like to sign. However, Bron might not want to change boats at this time of his career because it will be like starting afresh with a new roster and that's tricky. Still, this must not stop the team owners from talking him out of Jeanie Buss's business into theirs.
In one such attempt, Miami Heat President Pat Riley recently made a comment on the Akron Hammer. And now, Heat's former champions Dwyane Wade and Chris Bosh have jumped to react to Pat's cryptic words.
Former Miami Heat champions on Pat Riley's comments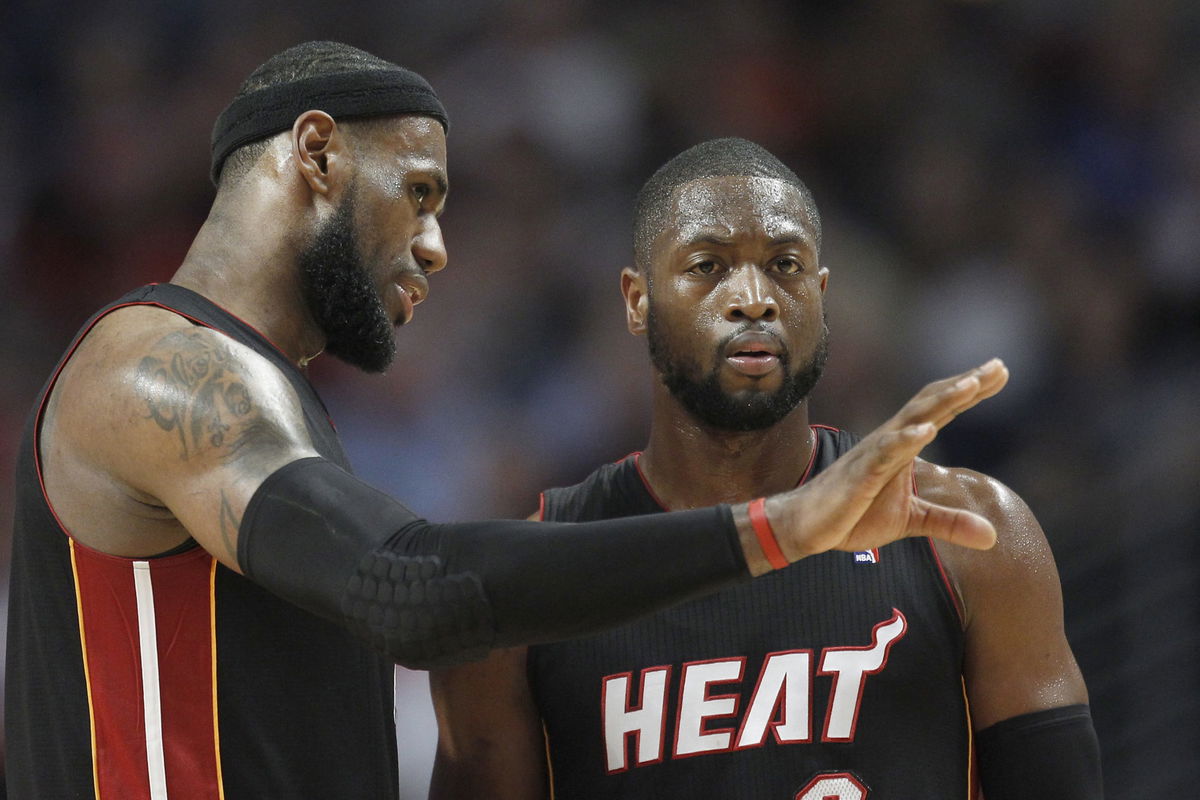 Recently, 76-YO Pat Riley joined a radio show where he shared, "I would leave the key under the doormat if he would call me and let me know that he's coming… but I doubt very much that key… That key is rusted now… and if he ever wanted to come back, I'll put a new shiny key under the mat."
This misuse of the microphone, as per the league, was violating its anti-tampering rules and hence Pat faced a paltry $25K fine. 
Reacting to the same, the franchise's two legends and also Bron's former teammates from the Big Three, came forward. Chris Bosh added, "You're used to competing in championship time. If you're not, if you know the Heat, they're thinking about the next move and things to get better. And we're living in the world of tampering. I'm pretty sure he meant things tongue in cheek just a bit may be serious. But you wanna be playing right now. You wanna be in the mix, in the fight, competing for an NBA Championship. And to not have that, he goes back down in the memory lane and just thinking of different scenarios."
To this, the Heat's 3x Champion Dwyane Wade reacted hilariously by suggesting, "Well, Pat Riley got $25000 in dress socks…"
Read more – Former Teammate Explains the Importance of Chris Bosh Amidst LeBron James & Dwyane Wade Era in Miami Heat
Are there thin chances Lakers' LeBron James would ever consider the offer?
After signing an $85 million contract extension with the Lakers, Bron is in LA until 2022-23. But if a mega trade is ever to happen, the Heat would have to shell out a fortune worth of package to attract the King. But can it?
Consider this, LeBron joined the Miami Heat after his infamous 'The Decision' when he saw that winning his first title in Cleveland was next to impossible. Then, he left the Heat in 2014 after his side failed to complete a three-peat. Post which, he continued with the Cavs until they lost two back-to-back finals, again drilling a feeling in Bron that his fourth title might not come with the Cavs. And now, after failing a season with the Lakers, if he fails yet again in 2021-22, chances are he might come to the table. That is just what his career trajectory is pointing towards. So if the Lakers wish to keep him, they better win or else people like Pat Riley would have their shot.
So what do you think, would Bron ever consider moving out of LA? Help us know in the comments.
Watch this story – Best Teammates of LeBron James in His Career
The post 'In Dress Socks': Chris Bosh & Dwyane Wade React to Miami Heat President's Comments on Poaching LeBron James appeared first on EssentiallySports.