Israel Adesanya and his Beef with Jon Jones
The UFC middleweight champion Israel Adesanya is defending his middleweight title again at UFC 263 against Marvin Vettori. They share a lot of animosity between them, and it's of a similar intensity to Adesanya's beef with the former light heavyweight champion Jon Jones.
They engaged in routine fights on Twitter and posted a lot of scathing tweets. There were mentions of Adesanya being knocked out, Jon Jones' arrests and USADA violations, and all the other controversies from their past.
Jones asked Adesanya to fight him multiple times, but the middleweight champion was keen on defending his middleweight belt and clearing out the division first. Their rivalry dates back to 2019 and has seen several tweets and interview quotes during its time.
Did he do a post & delete Dwight?
I been ko'd once and I never made that mistake again.
How many times you been arrested?
How many times you pissed hot?
How many times you had your belt taken off you? (someone answer these)
You never learn you PulsingPictoPussy. pic.twitter.com/qYhEgnWwlm

— Israel Adesanya (@stylebender) April 13, 2020
Fans had seen both fighters going back and forth on multiple occasions. Jones criticized Adesanya for his fights against Yoel Romero and his inability to fight him, while Adesanya referenced his drug abuse and infringements on the wrong side of the law.
As a result, there was a lot of talk about Adesanya moving up to face Jones. However, the fight never materialized. Jones has since moved up to heavyweight and has put on a lot of weight. On the other hand, Adesanya tried moving up to light heavyweight and challenge the champion Jan Blachowicz for the title.
Watch this story: Nate Diazs Intense Training Routine Ahead Of UFC 263
Israel Adesanya and his move up to light heavyweight
The move turned out to be a disaster for the Nigerian fighter. Adesanya weighed significantly lighter than Blachowicz on the day of the weigh-ins. Nothing changed on the day of the fight, and the big Jan Blachowicz was looking bigger than ever before.
The first two rounds were close, with Adesanya trying to use his offense to stifle the Polish powerhouse. However, Blachowicz came into his own in the later rounds of the fight and took 'The Last Stylebender' down at will. All three judges gave the fight to Blachowicz.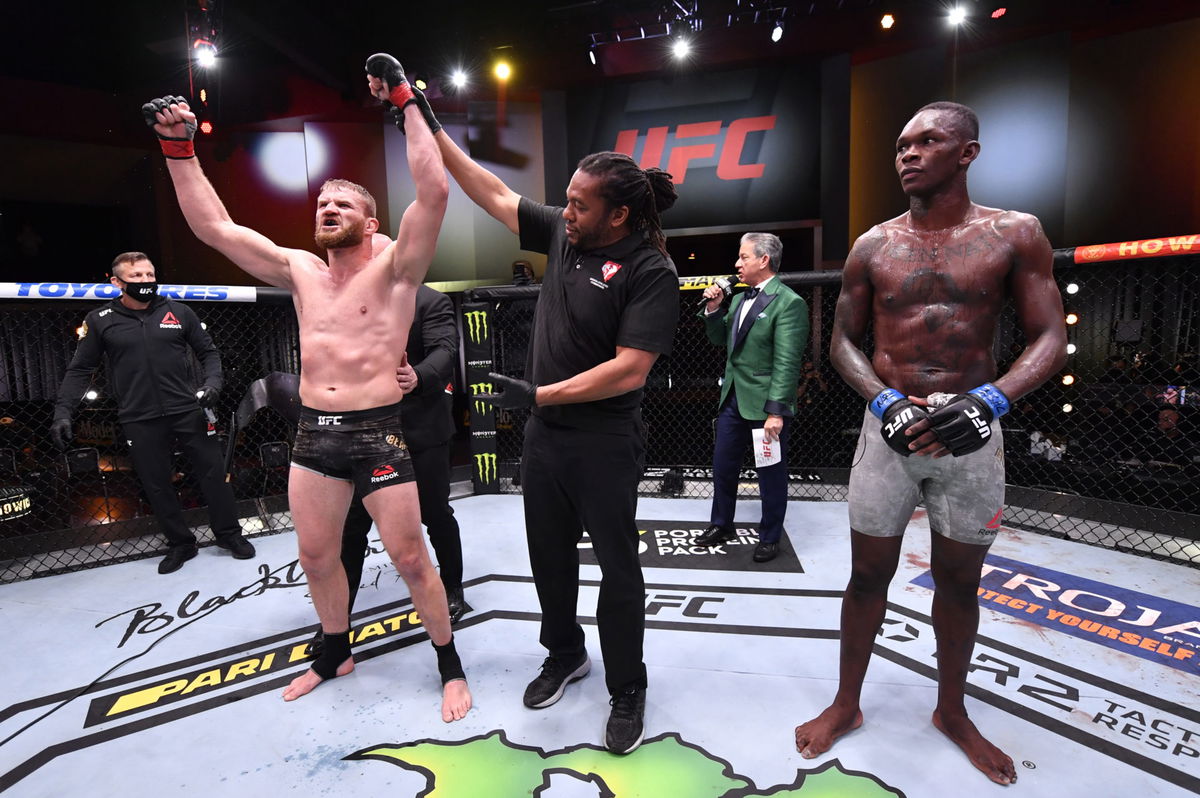 On the other hand, Adesanya had lost all of his momentum. All hopes of a possible fight against Jon Jones were squashed until he could put on some weight. However, they still engage in some trash-talk from time to time and haven't buried the hatchet.
Do you think Israel Adesanya will ever fight Jon Jones?
Read More: Every Tattoo On Israel Adesanya and The Stories Behind Them
The post Israel Adesanya and his Beef with Jon Jones appeared first on EssentiallySports.