Brodie Lee Jr's Mother Says He Will Return To AEW Under One Condition
Brodie Lee Jr aka -1 is probably the youngest superstar in the pro wrestling industry. The 8-year-old became the de facto leader of the AEW roster after his father, Brodie Lee Sr. unfortunately passed away last year.
Currently, he is a member of the Dark Order stable. The promotion plans to offer him a full-time contract after he comes of age and if he is willing to stay in the industry.
As fans might have noticed, the kendo-stick-wielding youngster was not present during the last few months of AEW Dynamite. Turns out, Brodie is actually getting punished for letting his grades slip in favor of wrestling.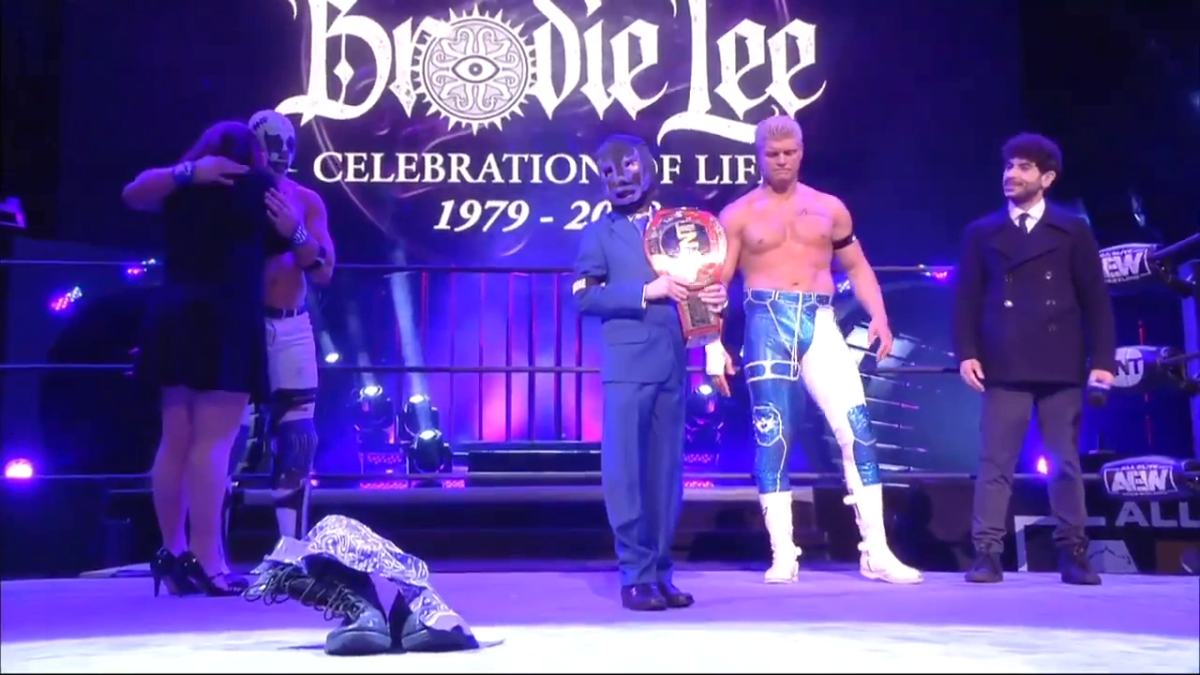 His mother and the widow of Brodie Lee Sr, Amanda Huber, revealed the same on Instagram. A user joked around Lee's grades, and Amanda confirmed it.
"He stopped doing his work, so he lost privileges," she revealed. "I don't make money off any appearances he does at AEW, it's purely for fun. It's his favorite place in the world and a reward for hard work. He managed to finish his school year with all A's and B's despite slipping up a bit. I'm very proud of him."
 

View this post on Instagram

 
He has briefly appeared in the last few tapings of AEW Dark and Elevation. It is great to see the young man is getting rewarded after doing well in school.
Watch this Story: Shocking Debuts, Huge Matches: Unforgettable Moments from AEW Double or Nothing 2021.
Everyone in AEW loves Brodie Lee Jr
Brodie Lee Sr was known for his love for the family. His sons and wife were an integral part of the backstage scene in AEW. Brodie Lee jr is loved by everyone backstage, including the likes of Kenny Omega, Chris Jericho, Tony Khan, and more.
Hence, the contract was a natural choice for everyone. Pro wrestling is something that connected the father-son duo throughout their lives. Brodie Lee Sr shockingly passed away last year at the age of 41 after some non-COVID-19 related lung issues.
AEW commentator and interviewer Tony Schiavone also noted the little one's love for sports entertainment as the latter used to roam freely backstage, mingling with everyone.
"They signed him to a contract," the veteran noted. "They legitimately signed him to a contract and when he gets of age, he will be with AEW, They have taken care of him and he follows guys around all the time in the back and he becomes a part of us."
As a result of his good grades, Brodie Lee Jr and his younger brother Nolan received the latest line of AEW action figures. You can check out the video below –
 

View this post on Instagram

 

A post shared by MandaHuber (@mandahuber)
Read more – WWE Hall of Famer Was Shocked after Mark Henry Left WWE to Join AEW
The post Brodie Lee Jr's Mother Says He Will Return To AEW Under One Condition appeared first on EssentiallySports.