'He Only Has that One Right Hand'- Henry Cejudo Picks Jake Paul to Defeat Tyron Woodley
Former two-division UFC champion, Henry Cejudo spoke to Helen Yee and shared his candid views on an upcoming boxing bout. YouTuber turned boxer, Jake Paul aims to go 4-0 by taking on former UFC welterweight champ Tyron Woodley in a boxing ring.
Jake Paul is coming off a KO win over Ben Askren in his last contest. He took fans by surprise with his improved skills and is now truly stepping up his competition. Despite being 0-4 in his last four UFC fights, Woodley is as dangerous as they come. While the entire MMA community is largely picking Woodley to come out on top, Henry Cejudo believes that the fight will go in the other direction.
"Man, I tell you what, I hate to say this guys. Well anyway, you guys either hate me or love me. Jake Paul is going to beat Tyron Woodley. This is the reason why- One is the gloves, the gloves are different. The gloves in MMA are four-ounce gloves, I would give it to Woodley because he does have that right hand and that's the problem, he only has that one right hand."
"If they use 8-10 ounce gloves, he's in trouble because Jake Paul is training, he's around world-class boxers. He's around scientists. You don't want to bring a Duke Roufus, with all respect to him, you want the cream of the crop and that's going to be the difference in the fight. The size of the glove and the fact that Tyron Woodley does not throw combinations"
Also Read: 'I Will Be Slicing and Dicing Him'- Leon Edwards Warns Nate Diaz
Tyron Woodley vs Jake Paul- A defining showdown
There's a lot on the line for both combatants when they finally meet in the boxing ring in August. Tyron Woodley is at the crossroads of his pro career going on the worst skid of his career. However, a definitive stoppage win over Jake Paul could be the game-changer he's looking for that will also bring in more opportunities.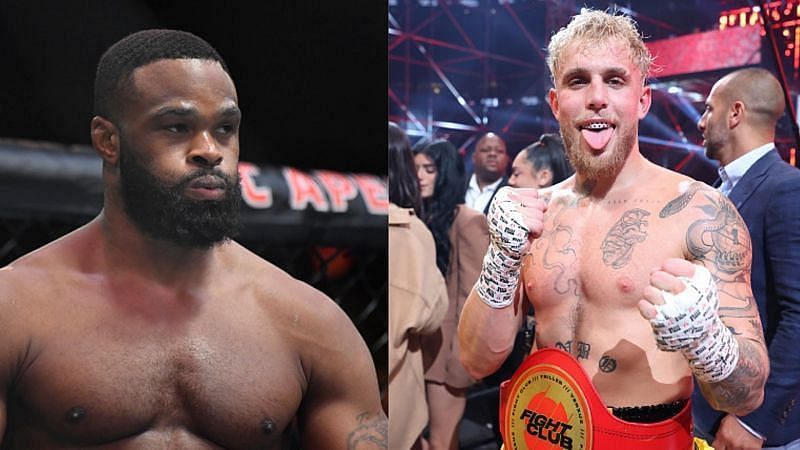 Furthermore, Woodley's bank balance is also sure to skyrocket making his upcoming bout his most lucrative to date.
As for Jake Paul, he will establish an unparalleled sense of supremacy if he manages to beat a legitimate former UFC champion. He would then be on a hot streak having beaten Askren and Woodley and fans will take notice.
Read this story: List of UFC Fighters Who Are Married to Each Other 
The post 'He Only Has that One Right Hand'- Henry Cejudo Picks Jake Paul to Defeat Tyron Woodley appeared first on EssentiallySports.