Kevin Durant Has High Praises for Giannis Antetokounmpo – "Never Seen Anything Like Him"
The Brooklyn Nets are battling it out against the Milwaukee Bucks, for a place in the Eastern Conference finals spot. Kevin Durant has been playing his heart out by putting up some incredible performances. The Nets had won the first two games, however, Giannis and co have come back to win game 3 to keep the series at 2-1. Game 3 was a tightly contested affair as Giannis and Middleton put up for 79 percent of the Bucks points. That is a remarkable statistic. Likewise, KD spoke about his favorite players to watch, and the 'Greek Freak' was on his list.
Durant spoke about Curry being fun to watch but he stressed how Antetokounmpo's potential is through the roof.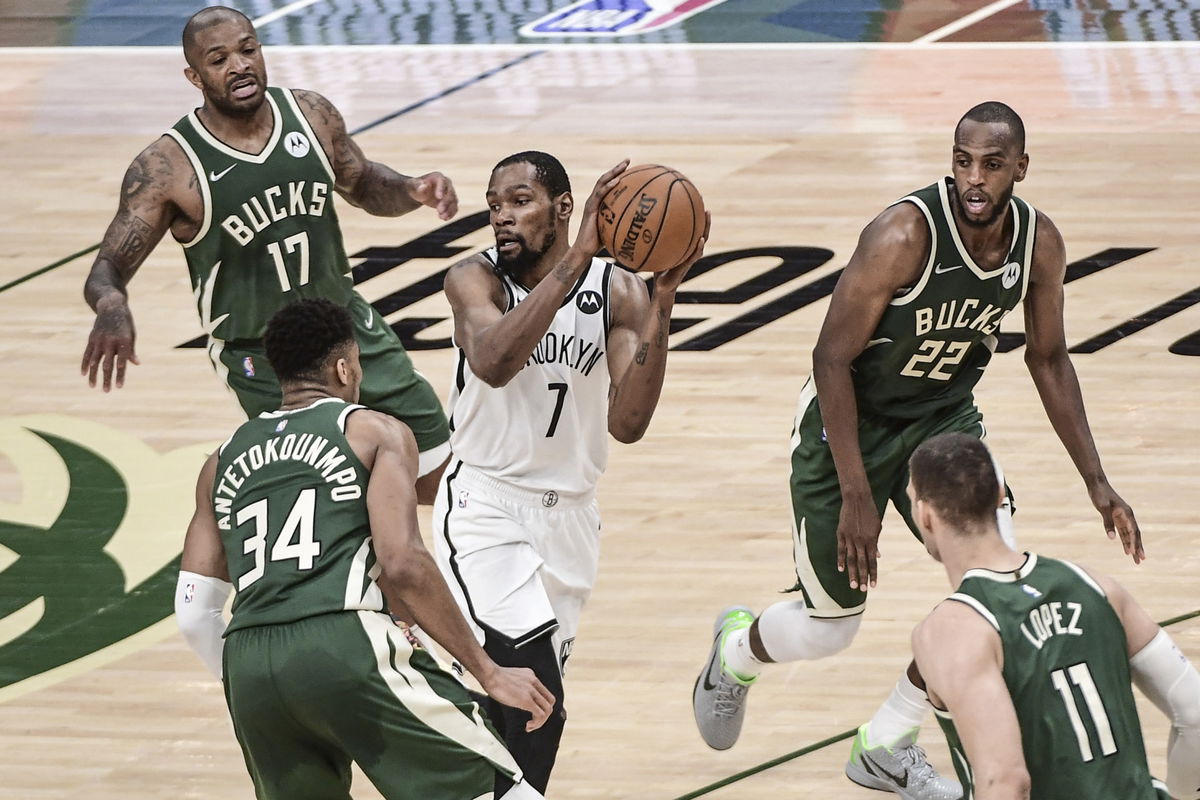 Kevin Durant admires Antetokounmpo
As the league comes to its anticlimax, the playoffs have provided us with incredible moments till now. The Bucks will hope to level the series in their next game against the Nets. In a recent interview, Durant spoke about the potential of Giannis.
"Greek Freak. That is one guy I like to watch. I mean Steph Curry up obviously is the most fun player that played the game but he's on my team, and I get to see him every day but Greek Freak is probably one I really really enjoy to watch."
"Greek Freak I think is a force and I have never seen anything like him and he could end up being the best player in the league," said Durant.
The passion in his eyes when he talks about Giannis is evident to see. Kevin Durant told how he loved Curry, Anthony Davis, and other notable players because they were fun to watch. However, Durant may be right in his judgment of Antetokounmpo. Even though he had a slow start to his career, the commitment to work on his physical attributes made him great.
READ MORE- No. 23 vs No. 6: LeBron James Statistics in Different Jersey Numbers
The Milwaukee Bucks are in safe hands
Game 4 will be an interesting match as the Bucks will hope to get back to winning ways. Giannis averages 28.3 points, 12 rebounds, and 1 block per game in his series against the Nets. However, the Bucks are struggling because of his free throw percentage. He shoots at a percentage of 31.6 as Giannis needs to improve to reach the levels of Kevin Durant. Durant is arguably the best player in the NBA right now but the potential of Giannis is unbelievable.
However, there are certain improvements he needs to make in his game. His jump shots need improvement while also keeping his concentration as he commits a lot of turnovers. But when it comes to scoring inside, there are no other players who are as explosive as the Greek Freak.
As the series is unfinished, the Bucks need their bench players to step up as well. The quality of the two teams is quite clear for everyone to see. But for the Bucks to get past the Nets, Giannis and co will have to play better, otherwise, Durant will finish the series off. '
WATCH THIS STORY- The Day Michael Jordan was Embarrassed by Celtics ' Reggie Lewis' Brilliance
The post Kevin Durant Has High Praises for Giannis Antetokounmpo – "Never Seen Anything Like Him" appeared first on EssentiallySports.