Sasha Banks Names Her Duel With Bayley as the Greatest Women's Match of All Time
Sasha Banks is one of the most popular female wrestlers in WWE. She is a five-time WWE Raw Women's Champion and one-time SmackDown Champion. Sasha, along with Bianca Belair, made history in WrestleMania 2021 by becoming the first two black women to have a singles match. Furthermore, the match was also the first women's singles match to headline the event in history.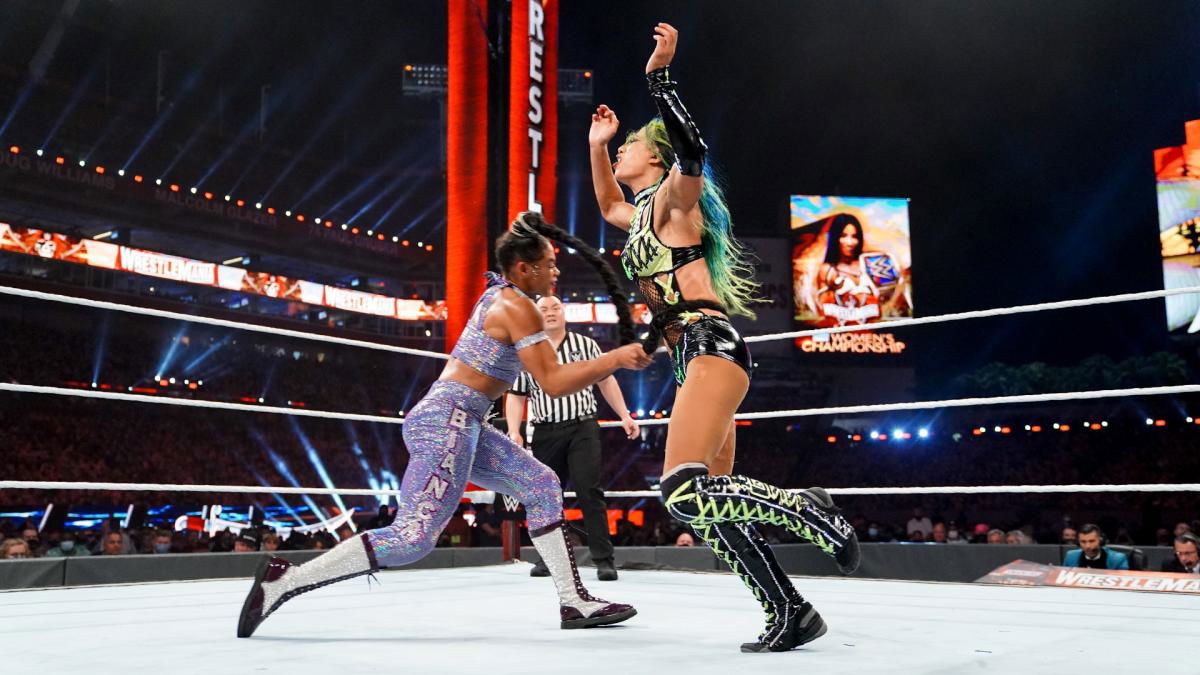 In an interview on the 'Just Women's Sports' podcast, Sasha Banks elaborated why the NXT TakeOver: Brooklyn match against Bayley was the greatest women's match of all time. Banks said,
"It's the most talked about match, really in the history of women's wrestling and I'm so thankful for that match because it really changed the game of everything in the business for women. I remember that match clearly because it was two months before I got called up to the main roster and I finally made it to Raw, which was my dream since I was a 10-year-old kid, and I was NXT Women's Champion.
"We're at TakeOver: Brooklyn, the first time out of Florida and NXT is in front of a large-scale audience. We were equal to the WWE brand because of Sasha Banks, Bayley, Sami Zayn, Finn Balor. I wanted to leave a lasting impression of what I wanted my name and legacy to be in NXT before I got called up and dropped the title.
"I wanted to show them; first of all, we should have been the main event. Second of all, I wanted to make sure they remembered this match for the rest of their lives. I wanted the match to be the greatest women's match of all time and it happened to be the greatest women's match of all time." (H/t Fightful for transcriptions)
Fans love Sasha Banks
If you are a fan of Sasha or not, you cannot deny that "The Boss" is an excellent wrestler. Her ability to gel with any wrestlers in the ring is clearly proof of that. She has reached the sky and more through sheer will and perseverance.
Excited to celebrate #WorldWishDay with @MakeAWish! One of my favorite memories is meeting Wish Kid Ryan in 2019, who showed me the true power of a wish. Visit https://t.co/SrgCP9s7i0 to help wish kids like Ryan! pic.twitter.com/65jd5UXnhc

— Mercedes Varnado (@SashaBanksWWE) April 30, 2021
Watch This Story: Most Decorated Women's Superstars in WWE History
Along with being an all-rounder in the ring, she is also an inspiration to children around the globe. A true icon who will continue to inspire generations to come. We have no doubt in our minds that she will continue to make history throughout her career. Don't take your eyes off the Boss.
Read More: Sasha Banks Reveals How She Felt When WWE Asked Her to Headline WrestleMania 37
What are your thoughts? Comment down below and let us know!
The post Sasha Banks Names Her Duel With Bayley as the Greatest Women's Match of All Time appeared first on EssentiallySports.